Flash mob in Woonsocket supports local teacher battling cancer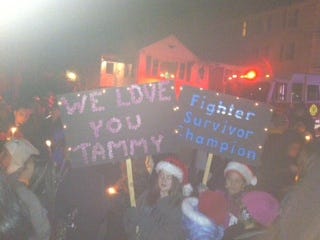 By Alana Cerrone
Close to 300 people crowded the streets of Woonsocket Thursday night to show their support for one of their local teachers.
Tammy Lamberto Roy, a teacher at Globe Park Elementary, battled breast cancer 9 years ago and was recently diagnosed with liver cancer.
To send her off for her surgery scheduled for Friday, the community – including teachers, students, friends, family, and even Santa Claus – showed up to her home with candles and signs, singing 'Roar' by Katy Perry.
Woonsocket Police and Fire helped block off the streets to accommodate the crowd.
Friends say Lamberto Roy was in shock and couldn't believe what she was seeing.
(C) WLNE-TV 2013