Flower Show Springs Into Providence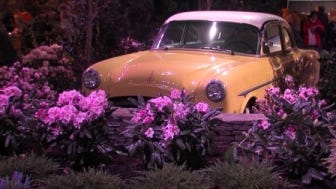 By Matt Blanchette
twitter: @mattblanchette
The annual flower show is drawing large crowds this weekend
at the Convention Center in Providence The theme this year is vintage cars
and gardens.
The show features 16 main garden displays,each with an
antique cars, as well as dozens of vendors.
This show has something for everyone.
"I will bring in a different demographic that we
usually bring in, which will bring awareness to the flower show," Michelle Sousa Peay of Metamorphasis Design said. "People still
do not realize that is is full scale landscapes and not just flowers in a jar
type of thing. And there is something here for everyone."
The show runs through Sunday.