Former 38 Studios workers speak out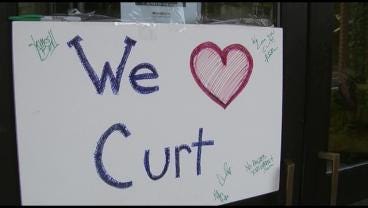 The former employees of 38 Studios gathered back at "One Empire Plaza" on Friday to talk about unemployment benefits and find out what assistance is out there to land other jobs.
While many of the employees were silent with the media, some did speak about what kind of future they are now facing.
Former 38 Studios employees filed in and out of their old workplace for the last time on Friday, some stopping to leave messages of inspiration on a poster….like "We love you Curt"..and "No regrets". For many the reality is just starting to sink in. "It's a tragedy. A lot of hard work being wasted, " said one former employee.
Instead of picking up a pay check, they were instead briefed about unemployment benefits and what assistance is out there to land a job. Outside recruiters from local companies were handing out business cards hoping to lure 38 Studios employees to their side. "We don't want great talent to leave Rhode Island and hopefully we can bring them on board, " said Atrion Recruiter, Attractor Pryor.
That's what Irena Mendel is hoping. She and her husband were both video game designers. They recently welcomed a new child and just closed on their new home in the ocean state on May 13th. Now, they're both out of work. "We relocated from Southern California to Massachusetts to work for Curt at his request and then we moved to Rhode Island to bolster the economy and now we have to leave, " said Irena Mendel
She's taking her frustrations not out on her former boss Curt Schilling, but on Governor Chafee. Mendel said the state didn't give 38 Studios a chance. "Yes, we needed money we needed investors and we were working on that but the fact that Governor Chafee interfered made it so that we couldn't complete those deals, " added Mendel.