Former Boston College student sentenced for role in boyfriend's suicide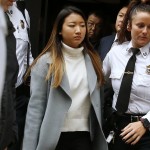 Boston (WLNE) – A former Boston College student pleaded guilty on Thursday for her role in her boyfriend's suicide.
During a hearing in Suffolk Superior Court, 23-year-old Inyoung You changed her plea to 'guilty' on a charge of manslaughter. She had previously pleaded 'not guilty'. You's boyfriend, 22-year-old Alexander Urtula, committed suicide on the day he was supposed to graduate from Boston College in May 2019. You admitted in court that her actions contributed to Urtula's suicide.
The judge sentenced You to two-and-a-half years in the house of corrections, suspended for a 10-year probationary term. The first five years of probation will be supervised. In addition, You will be required to complete community service and undergo mental health treatment. You is also prohibited from making any money in relation to the case during all 10 years of the probationary term.
Prosecutors said You engaged in disturbing, and often relentless, verbal, psychological and physical abuse toward Urtula. They said the abuse significantly escalated in the days and hours before Urtula's death.
Investigators said You and Urtula exchanged 75,337 text messages between March 29, 2019 and May 20, 2019. They said You sent 47,130 of those texts, in many of which she encouraged Urtula to kill himself. Investigators also said evidence collected through Urtula's medical records, journal entries, family and friends showed that he became suicidal only after You's abuse began.
The judge said he hopes this case serves as a warning to other teens and young adults about how they treat people, particularly on social media. He asked You to live the rest of her life in a way that honors Alexander.
If You violates her probation, she could have to serve the full two-and-a-half years in the house of corrections.
District Attorney Rachael Rollins said in a statement, "When we think of domestic violence, we often picture a man abusing a female intimate partner. However, we see abusers as well as victims across the gender spectrum. Abuse occurs within every type of family constellation, not just between intimate partners, and across every religion, race, ethnicity, neighborhood and socioeconomic standing. Parents and guardians abuse children, siblings abuse each other, children abuse parents and guardians. And not all domestic violence is physical. There are emotional, financial, and psychological ways abuse occurs, including forced isolation, that can have a significant impact on victims. All of these things are domestic violence."
She went on to say, "Today, as always, our thoughts are with Alexander's family and loved ones. Today's plea allows them to close one chapter of their grief and hopefully move on to the next stage of their journey toward healing. My office will continue to support them and to ensure that they have access to the services and resources they may need going forward. Our office is available to serve victims of all crime in Suffolk County – including the victims of all types of domestic violence and the survivors of homicide victims."
The District Attorney's office also wants to remind everyone about Safelink, a statewide domestic violence hotline. The number is 877-785-2020 and is staffed 24 hours per day. The hotline is answered by trained advocates in English, Spanish and Portuguese. TTY is available at 877-521-2601 and it has the ability to translate in more than 140 languages. Members of the LGBTQ+ community who are victims of domestic violence can also call The Network/La Red at 617-742-4911 or 800-832-1901.