Former Friar Brooks Back With Celtics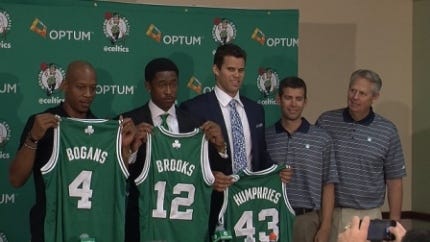 WALTHAM, Mass. (AP) _ It was the first thing Celtics general manager Danny Ainge told Keith Bogans and Kris Humphries when they arrived in Boston: We're not tanking this season.
Ainge wanted to reassure the former Brooklyn Nets who were acquired in the deal that sent Kevin Garnett and Paul Pierce to Brooklyn. The deal followed the trade of coach Doc Rivers to Los Angeles, which kicked off the rebuilding process for the team that won the 2008 championship and returned to the NBA finals two years later.
Bogans and Humphries met reporters at the Celtics' practice facility on Monday along with MarShon Brooks. Gerald Wallace was also acquired in the deal, but couldn't make the news conference. Also Monday, the Celtics waived forward Kris Joseph, who was originally drafted by Boston and re-acquired in the trade with the Nets.