Former NP Councilors Plead Not Guilty to New Charges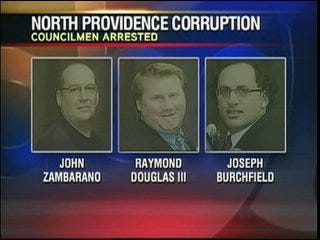 The three former North Providence Town Councilors who resigned in disgrace after a federal investigation resulted in corruption charges against them are due back in court today.
Joseph Burchfield, Raymond Douglas and John Zambarano are being re-arraigned on additional charges after a new indictment last week. They're accused of taking a bribe from a developer interested in building a Stop and Shop in town.
Real estate developer Edward Imondi and former Town Solicitor Robert Ciresi, accused of being middle men in the scheme, are due in court later this week to face charges as well – it will be their first court appearance in this case.
****UPDATE****
The three men each pleaded not guilty in US District Court to conspiracy, extortion and bribery charges.
The indictment released last Thursday includes accusations of four extorted bribes: two for zoning changes which were paid, and two for liquor licenses and changes in operating hours for a restaurant, which were not paid.
The potential maximum sentences for each charge are: 5 years an a $250,000 fine for conspiracy; 10 years in federal prison and a $250,000 fine for bribery, 20 years in federal prison and a $250,000 fine for extortion, and 5 years in prison and a $250,000 fine for false statements to a federal agent.