Former Red Sox Player and Scout Frank Malzone Passes Away after 68 Years with Team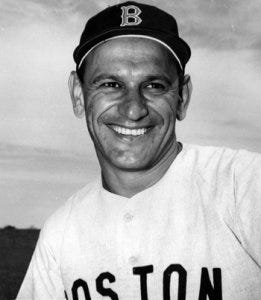 Red Sox news release…
BOSTON, MA_
Inducted into the first class of Red Sox Hall of Famers in 1995, Malzone has more home runs (131) and runs driven in (716) than any other third baseman in team history. With Boston from 1955-65, the right-handed batter hit .276 in 1,359 games. He is the only Red Sox third baseman to win a Gold Glove.
Malzone was a member of the Red Sox organization all but one of the last 69 years since signing as a free agent in 1947. After ending his 12-year major league playing career with the California Angels in 1966, he returned to Boston as a scout and instructor, and went on to work in Boston's front office. Beginning in 2008, he served as a Red Sox player development consultant.
"We mourn the loss of a man we all came to know as 'Malzie,' who was venerated by Red Sox fans not only for his great glove at third base but for his blue-collar dedication to his craft," said Red Sox Chairman Tom Werner.
"He played 150 games or more in seven consecutive seasons, and missed just a total of two games in his first four seasons. He brought that same commitment to the many years in which he served the club as a special assistant, and always was a welcome presence at Fenway Park. He will be missed, and we extend our condolences to his family."
As a prospect, Malzone lost two seasons of development serving in the United States Army during the Korean War in 1952 and 1953, but made it to the majors two years later in 1955. A full-time big leaguer by 1957, he immediately impressed both defensively and with the bat, finishing second in Rookie of the Year balloting after hitting .292 with 15 home runs and a team-leading 103 RBI.
The incredible start to Malzone's full-time major league career included three straight Rawlings Gold Glove Awards (1957-59) and four consecutive All-Star seasons (1957-60). He was named the team's Most Valuable Player in both 1957 and 1959, two of his first three full seasons with Boston.
Malzone hit at least 13 home runs every season from 1957-64, the only American League third baseman to reach double-digits in homers in each of those eight campaigns. In 1959, he had a team-high 34 doubles to go along with 19 home runs. His career-high 21 homers in 1962 led the team and tied the then-club single-season record by a third baseman, a mark that would not be passed for another 15 years.
He was on eight All-Star Game rosters over six All-Star seasons (two All-Star Games were played in 1959 and 1960) and started five of those exhibitions, homering off Don Drysdale at the Los Angeles Coliseum in the second 1959 Mid-Summer Classic. A fan favorite, Malzone was voted as the top third baseman on the Red Sox All-Time Team in 1969, and was placed onto the Second Team in 1982 voting by fans.
Malzone played in every game in back-to-back seasons from 1958-59, starting each Red Sox contest from May 21, 1957-June 7, 1960. His 475 consecutive games played in that time remain the team's longest streak in the live ball era (since 1920).
Malzone was a member of the inaugural Gold Glove Team in 1957, when he became the first player in history to lead all American League third basemen in games, putouts, assists, double plays, and fielding percentage. (In 1957, only one Gold Glove Team was selected. The award was split into American League and National League teams in 1958). He set a team record that still stands with 378 assists at third base in 1958 and went on to record 1,270 putouts as a Red Sox, a team record for the position.
A native of Bronx, NY, Malzone finished his career having played all but 82 of his 1,441 career major league games for the Red Sox. His 1,359 games with Boston rank 12th in team history, while his 1,454 hits rank 10th.
In 1967, his first season as a Red Sox scout, Malzone is credited with providing crucial advance scouting reports that helped Boston defeat the Minnesota Twins to claim the American League pennant and push the St. Louis Cardinals to seven games in the World Series. He also instructed numerous major leaguers, including Hall of Famers Wade Boggs and Jim Rice.
Malzone is survived by sons Frank, Paul, John, and Jim, daughter Anne O'Neill, eight grandchildren, and five great-grandchildren.
A wake will be held from 3:00-7:00 p.m. on Sunday, January 3, 2016, at Eaton Funeral Home, 1351 Highland Avenue, Needham Heights, MA. The funeral will take place Monday, January 4, 2016 beginning at 10:00 a.m. at Saint Bartholomew Church, 1180 Greendale Avenue, Needham MA.