Former RI Governor J. Joseph Garrahy Passes Away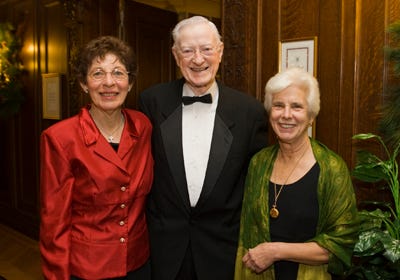 ABC6 News has confirmed that former Rhode Island Governor J. Joseph Garrahy has passed away. He was 81-years-old. Garrahy was residing in Florida when he passed away Tuesday.
The family of the former governor released the following statement Wednesday:
"It is with profound sadness that we announce the passing of former Governor J. Joseph Garrahy. He loved his family dearly and we were so proud to call him our husband, father and Poppy. He also loved the people of Rhode Island and worked tirelessly to improve the State and to provide assistance to those in need."
"We thank Rhode Islanders for their continued outpouring of fondness over the years. He was very grateful for their warmth and friendship and for the opportunity to serve them."
"Your prayers are greatly appreciated at this time."
-The Garrahy Family
Born in Providence, Rhode Island, J. Joseph Garrahy attended the University of Buffalo and the University of Rhode Island. He served in the U.S. Air Force during the Korean War. He was a Rhode Island state Senator from 1963 to 1969, and in 1967 and 1968 served as Deputy Majority Leader of the Senate as well as Democratic State Chairman.
He was elected Lieutenant Governor in 1968 and reelected in 1970, 1972, and 1974. While governor, Garrahy chaired the England Regional Commission and the Coalition of Northeastern Governors. After leaving office, he became an independent business consultant.
He was a director of both the Southeastern New England Shipbuilding Corporation (SENESCO) and the Providence and Worcester Railroad Company. And had served on the Rhode Island Cancer Council and the Rhode Island Bays, Rivers, and Watersheds Coordination Team at the University of Rhode Island.