Former URI and BC Coach Al Skinner Becomes Assistant at Bryant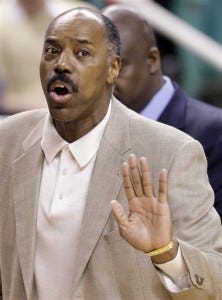 SMITHFIELD, R.I. (AP) — Former Boston College and Rhode Island head coach Al Skinner has joined the staff at Bryant.
Skinner fills the hole left by the departure of assistant Mike Kelly on third-year coach Tim O'Shea's staff.
Skinner compiled a 247-165 record at Boston College from 1997 until
2010, leading the Eagles to six NCAA tournaments in one seven-year
stretch, including a trip to the Sweet Sixteen in 2006.
He went 138-126 in nine seasons at Rhode Island, including two NCAA
trips and two trips to the NIT. O'Shea was an assistant to Skinner at
both schools.
Skinner said in a statement he is excited to be reunited with O'Shea.
Skinner was a star player at the University of Massachusetts and played six years of professional basketball.
Bryant went 19-12 last season.
Copyright 2013 The Associated Press. All rights reserved.