Foster's haunted Ramtail Factory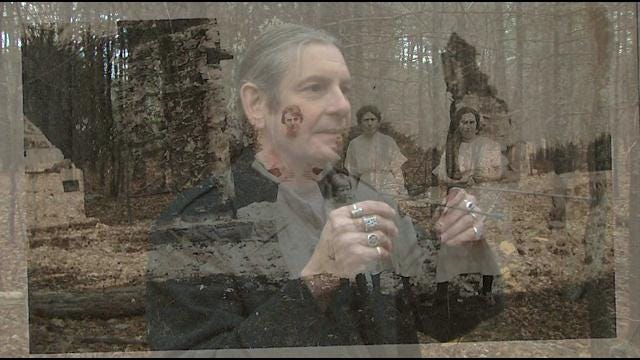 By: Alexandra Cowley
Paranormal researcher Thomas D'Agostino has spent three decades hunting the dead. He shares with ABC6 News why an old clothing factory site in Foster, is the most active place he's ever been.
The Ramtail Factory site was officially listed as haunted in 1885 by the Rhode Island Census. This following the death of one of the clothing mills owners, Peleg Walker, and the subsequent noises and eerie sitings that came after.
Thomas D'Agostino believes Walker's spirit still surrounds the site because of the mystery of how he died. D'Agostino has investigated over a thousand haunted areas in New England, but there's something about Foster's old Ramtail Factory that draws him in.
"This area is very active. There's a lot of energy here and it doesn't seem to be going away," D'Agostino said.
It's about a five minute walk into the woods off Ramtail Road, before you reach the site of where the wool factory used to stand. In the early 1800's, this area was home to a village. Today, it's desolate.
D'Agostino described one experience, "I was out here with a friend and we saw a glowing form that was moving about the trees where the factory would have been."
D'Agostino says Peleg Walker married into the Potter family and became a partner in the clothing factory business. When negotiations soured in 1822, Walker is said to have hung himself from the bell rope he rang to signal a shift change. After his death, many villagers claimed the bell kept ringing.
"The bell started ringing at midnight, and then they removed the rope after like 3 or 4 incidents. But, the bell kept ringing and they had to remove the bell altogether," he explained.
D'Agostino says there are even accounts of the mill running on it's own in the middle of the night.
"They had to come here and shut it down, and then a few nights later it was running full tilt again. But this time, it was running opposite the flow of the river," he explained.
D'Agostino believes he's channeled Walker using his recording device which picks up Electronic Voice Phenomena. He claims walker has told him he was killed.
He asks himself, "did he commit suicide or was it more foul play than that?"
It's a question this paranormal researcher won't put to rest.
(C) WLNE-TV 2014