Four Johnson & Wales students accused of sexual assault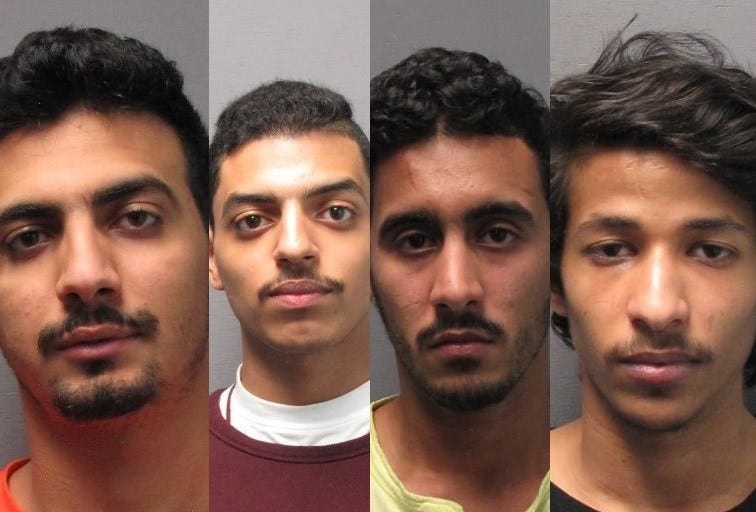 By News Staff
Reporting by Samantha Fenlon
sfenlon@abc6.com
Four Johnson & Wales students are facing sexual assault charges, accused of raping and possibly drugging fellow students.
20-year-old Mohammed Aslaquer, 23-year-old Yazeed Alasiri, 20-year-old Mohammad Aljohani, and 22-year-old Tareq Alharbi, are charged with assaulting two 18-year-old classmates after a night of dancing at the Colosseum nightclub in Providence on October 1st.
Police say the four men invited the women back to their Pawtucket apartment to smoke hookah where the alleged assault occurred.
"The first female alleged that she had gone walking around the apartment with one of the males, that he took her into one of the bathrooms, and in that bathroom she was sexually assaulted by him. The other female alleged she was sexually assaulted by another man in a bedroom," says Pawtucket Police Sgt. Paul Brandley.
The women say they were assaulted by several other men, but police are not saying just how many others were involved.
After interviewing victims and suspects, Alsaqer was taken into custody and charged with first degree sexual assault, and Alasiri was also taken into custody and charged with second degree sexual assault. Tuesday night, both Aljohani and Alharbi were arrested and charged with first degree sexual assault.
Johnson & Wales released a statement Tuesday saying:
"At Johnson & Wales University, when sexual violence is alleged, it is the university's position to interimly suspend the accused pending resolution of the Conduct Review Process. Students found responsible are subject to disciplinary sanctions, including permanent dismissal from the university.
Additionally, the university takes a proactive stance to educate its students about sexual assault prevention and has resources in place to offer comfort, support, protection, and assistance to victims."
The University also sent out a community notice to students, faculty, and staff, saying the male students have been suspended from all campus activity pending the outcome of internal university investigation and subsequent disciplinary proceedings.
© WLNE-TV 2015