House Oversight Committee wants answers from Fox and Schilling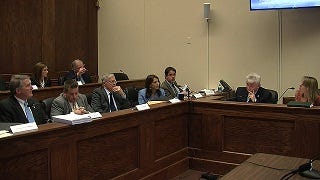 By: Samantha Lavien
Twitter: @samanthalavien
Weeks after a major shakeup at the State House, the new chairwoman of the House Oversight Committee is determined to get answers about the failed 38 Studios deal.
"Tonight's meeting was certainly a catalyst to show the people that we are moving forward, and that we have a leadership team in place that is committed to turning this state around," said the Chairwoman of the committee, State Rep. Karen MacBeth.
Legislators have big decisions to make, including whether to pay another $12 million to bondholders who lost money on the 38 Studios loan.
They also have to determine whether they can get back any of the $75 million dollars that state taxpayers lost on the now bankrupt video game company.
"There will be transparency," said State Rep. Michael Chippendale. "We will find out what happened and we will take measures from ever happening again."
The state is also suing 38 Studios, and has privately questioned its former employees and former EDC members.
The House committee is wants those depositions made public. A judge will hear those arguments on Friday.
"No matter what it takes, if we don't get the information there that we are hoping for then we will get the information however we need to," said MacBeth.
The committee also wants testimony from the major players in the deal including Curt Schilling, former House Speaker Gordon Fox… and former Governor Donald Carcieri.
"This is an issue that is paramount on the minds of all Rhode Islanders. There are extreme budgetary implications to what we are doing right now and what last year we did," said Chippendale.
The Governor wants $12 million to be paid to bondholders back as part of this year budget and though the general assembly approved it last year they haven't yet decided about this year.
©WLNE-TV / ABC6