Free back-to-school supplies at annual Back to School Celebration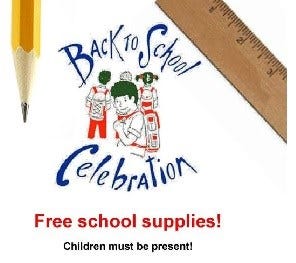 By News Staff
news@abc6.com
The 2015 Back to School Celebration of RI is coming up this Saturday, August 15 across the state.
The goal for 2015 is to provide free backpacks with school supplies for at least 14,000 students at the eleven pick-up sites.
From 10:00 am to 1:00 pm, you can stop by any of the 11 sites to pick-up supplies. Children must be present at pick-up. Families and students can also enjoy food, entertainment, fun activities, and educational information.
The Back to School Celebration of RI was originally planned by Mr. Melvin Bell, Program Officer for the Rhode Island Foundation, and Jorge Cardenas, who at the time was a Field Coordinator for Parents Making a Difference.
Locations:
Blackstone Valley Prep Mayoral Academy, 291 Broad St. – Cumberland
East Bay Community Action Program, 1 John H. Chafee Blvd. – Newport
Hope High School, 324 Hope St. – Providence
McCoy Stadium, 1 Columbus Ave. – Pawtucket
Nathanael Greene Middle School, 721 Chalkstone Ave. – Providence
Parent information and student registration, 325 Ocean St. – Providence
St. James Baptist Church, 340 South Main St. – Woonsocket
Thundermist Health Center, 186 Providence St. – West Warwick
United Way of RI, 50 Valley St. – Providence
Veterans Memorial Elementary, 150 Fuller Ave. – Central Falls
West End Community Center, 109 Bucklin St. – Providence
For more details, click here.
(C) WLNE-TV 2015