Freezing temps allowing local ski areas to make snow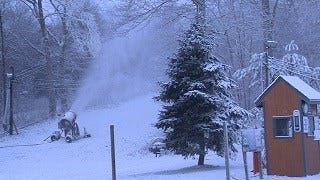 By: Samantha Lavien
Slavien@abc6.com
Twitter: @samanthalavien
It's been a slow start to the ski season here in Rhode Island, but freezing temperatures means that snow can now be made.
Tuesday, snow makers at Yawgoo Valley Ski Area were in full gear allowing the rope tow at the mountain to open.
"We've been waiting a few weeks to get here so it's nice," said Andrea Scott who came to ski with her kids and husband.
The ski area has only been open around 10 times so far this year, but as the temperatures continue to drop the general manager says she is optimistic about the rest of the season.
"We try not to get too anxious when the weather stays warm this late and of course now as you can see behind me that mother nature is being kinder too us now. And, we're going to get a lot of snow making done in the next couple of days," said Pati De Wardener, the GM of Yawgoo Ski Area.
The hope is that more slopes will be opening up in the coming days. The tubing area is set to open some time after the New Year.
"We have started on the other trails that the chairlift will service. We will update tomorrow," said De Wardener.
The ski area does list the open trails daily on their website: www.yawgoo.com
(C) WLNE 2014