Friars Give Ed Cooley 100th Career Win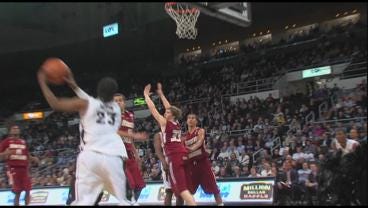 Providence outlasts Boston College in 64-57 battle
PROVIDENCE, R.I. (AP) – Freshman LaDontae Henton scored 21
points and Providence defeated Boston College 64-57 Thursday night.
Henton, who entered the contest averaging 18 points and nine
rebounds over the last three games, scored 16 of his 21 in the
second half and finished with seven rebounds.
Vincent Council added 17 points for the Friars (8-2) and Gerard
Coleman had 12.
Ryan Anderson, California's Mr. Basketball last season, led BC
(2-7) with a career-high 16 points.
On the final play of the first half, Henton had a put-back to
give Providence a 30-26 lead.
The Friars maintained a slim advantage for most of the second
half. But with just over a minute left, Henton got his own rebound
and muscled a shot over two defenders to give the Friars a
comfortable seven-point lead.
Providence's Ed Cooley earned his 100th career victory in six
years as a head coach. He has 71 losses.




(Copyright 2011 by The Associated Press. All Rights Reserved.)