Friars Hold Off Holy Cross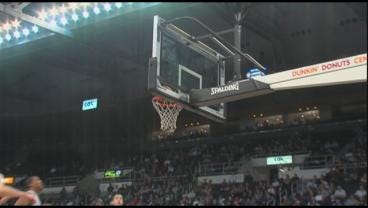 Council leads Providence past Holy Cross 82-77
PROVIDENCE, R.I. (AP) -Council leads Providence past Holy Cross 82-77
Eds: APNewsNow. Providence 82, Holy Cross 77.
PROVIDENCE, R.I. (AP) – Vincent Council scored 19 points, dished
out 11 assists, and brought down seven rebounds as Providence
defeated Holy Cross 82-77 on Tuesday night.
Early in the second half, the Friars (5-2) appeared to take
control, leading 66-51 with just under 11 minutes left, but Holy
Cross (2-5) put together an 18-3 run, punctuated by an R.J. Evans
3-pointer, to tie the game at 69.
The score remained close, but a three-point play by Providence
freshman LaDontae Henton with 25 seconds left gave the Friars the
lead to stay.
The Crusaders' Phil Beans attempted a desperation 3-pointer to
tie the game with 4 seconds left, but the ball caromed off the
backboard directly into the hands of Bryce Cotton, who quickly drew
a foul and made both free throws to end the game.
Evans and Dave Dudzinski led the Crusaders with 21 points
apiece, and Dudzinski added 11 rebounds.



(Copyright 2011 by The Associated Press. All Rights Reserved.)