Friars Move On From URI Loss, Reset for Stony Brook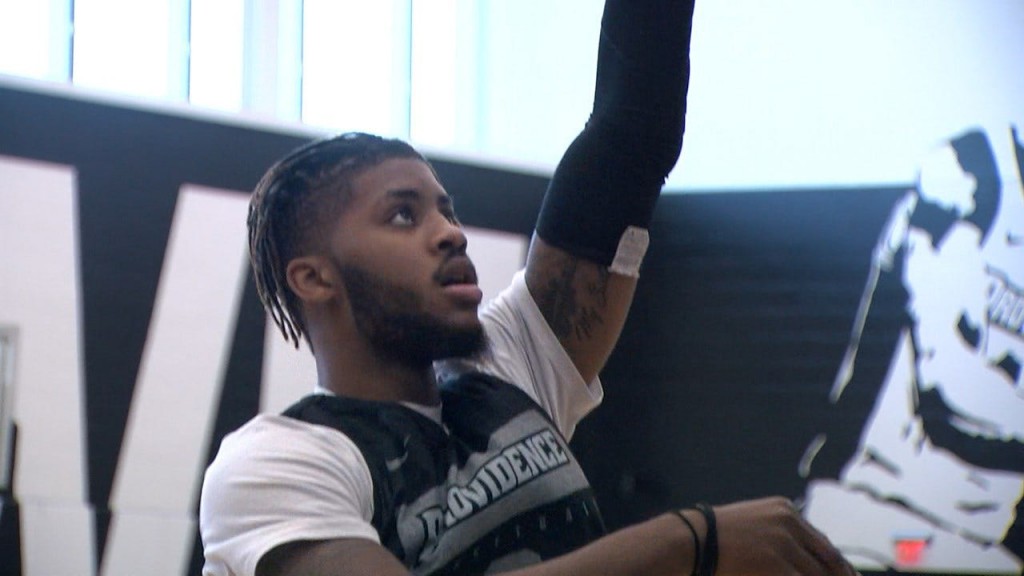 Friars To Play Stony Brook On December 14: The Friars have posted a 2-0 mark all-time versus Stony Brook. In the first meeting ever between the two teams, the Friars earned a 70-61 win on December 13, 2014 at the Dunkin' Donuts Center. In the most recent game between the two schools, the Friars defeated the Seawolves, 62-60, on December 17, 2017 at the Dunkin' Donuts Center.
Friars Looking To Get Back To The Winning Ways: The Friars enter Saturday's game versus Stony Brook having lost four of the last five games. The Friars have three non-conference games remaining (Stony Brook on December 14, vs. Florida on December 17 and Texas on December 21) before they open league play versus Georgetown on December 31 at the Dunkin' Donuts Center.
Friars Forcing Turnovers: The Friars are forcing turnovers this season. The team ranks second in the BIG EAST in turnover margin at +4.2. The Friars lead the BIG EAST in steals at 10.3 per game. PC is averaging 14.3 turnovers per game compared to 18.5 by its opponents.
Diallo Leads Team In Scoring And Rebounding: Senior forward Alpha Diallo (New York, N.Y.) is averaging 13.2 points and 8.4 rebounds through 10 games this season. He leads the team in scoring and rebounding. Diallo has posted a double-double in three of the Friars' 10 games. He had 19 points, 14 rebounds, four blocks, three steals and three assists in a 106-60 win over Sacred Heart on November 5. On November 9, he recorded 15 points, 10 rebounds, two blocks and three steals in a 76-47 victory over NJIT. Diallo recorded his third consecutive double-double with 15 points and 14 rebounds in a loss at Northwestern on November 13. He has registered 19 double-doubles in his four seasons at Providence.
Duke Registers A Career High 22 Points Versus Charleston: Sophomore guard David Duke (Providence, R.I.) scored a career-high 22 points, while shooting 7-8 from the field and 5-6 from the free-throw line in the Friars' loss to the College of Charleston on November 29. It marked Duke's second 20-point performance of the season. He also had 21 points versus NJIT on November 9. Duke is second on the team lead in scoring (12.8 ppg). He also ranks second on the team in assists (4.0 apg).
Pipkins Registering Assists And Steals: Graduate student Luwane Pipkins (Chicago, Ill.) is second in the BIG EAST in steals (2.0 spg). He ranks fourth in the league in assists (4.9 apg). Pipkins, who is in his first season with the Friars after transferring from UMass, recorded 18 points, eight assists and three steals in the Friars' win over Mer- rimack on November 19. He is averaging 7.9 points per game.
Diallo Surpassed 1,000 Career Points: Senior Alpha Diallo (New York, N.Y.) has recorded 1,287 career points in 109 games (11.8 ppg). He became the 50th player in Friar history to score 1,000 or more career points. Diallo ranks 25th all-time in scoring at Providence.
Watson Returns To The Lineup: Junior Nate Watson (Arlington, Va.), who missed the first four games of the season with a knee injury, returned to the lineup versus Merrimack on November 19. The junior center scored 14 points in 14 minutes of action after shooting 6-7 from the field. Last season, Watson ranked first on the team in field goal percentage (59 percent), second in scoring (11.7 ppg) and second in rebounding (5.2 rpg) last season.
Holt Posts First Double-Double Since March 2017: Graduate student Emmitt Holt (Rochester, N.Y.) missed the last two seasons with injuries. On November 19, he recorded 11 points and 10 rebounds in the Friars' win over Merrimack. For Holt, it marked his first double-double since he had 18 points and 11 rebounds versus USC in the NCAA Tournament on March 15, 2017. Holt has five career double-doubles.
Breed Signs NLI To Attend Providence: Ed Cooley announced on November 13 that student-athlete Alyn Breed (Powder Springs, Ga.) has signed a National Letter of Intent to attend Providence College beginning in September 2020. Breed attends IMG Academy in Bradenton, Fla. Breed, a 6-foot-3-inch, 185-pound shooting guard, enters his first season at IMG. In 2018-19, he attended McEachern High School in Powder Springs, Ga. Breed, who averaged 14.0 points, 6.0 rebounds and 4.0 assists last season, helped lead McEachern to a 32-0 mark with wins over eight nationally ranked high schools. The squad captured the Georgia Class 7A State Championship. The team also won tournament titles at the City of Palms Classic, the Bass Pro Shops Tournament of Champions and the Hoophall Classic. In the summer of 2019, Breed played for the AOT Running Rebels.
Diallo Named To Naismith And Wooden Watch List: It was announced November 5 that Providence College senior forward Alpha Diallo (New York, N.Y.) was named one of 50 players to the 2020 Naismith Trophy Watch List. He also has been named one of 50 players for the 2020 Wooden Award Watch List. The Naismith Trophy will be awarded in the hometown of the Atlanta Tipoff Club during the Final Four at the Naismith Awards Brunch on April 5, 2020. The winner of the 2020 John R. Wooden Award will be presented by Wendy's during the ESPN College Basketball Awards on Friday, April 10, 2020.
Diallo Named Preseason All-BIG EAST First Team: It was announced on October 10 that senior forward Alpha Diallo (New York, N.Y.) was named to the Preseason All-BIG EAST First Team. Diallo was a unanimous First Team selection as voted on by the coaches. The senior forward was named Second Team All-BIG EAST in 2018-19.
Friars Picked Fourth In Preseason BIG EAST Poll: It was announced on October 10 that the Friars were picked tied for fourth in the Preseason BIG EAST Coaches Poll. The Friars, who return all five starters, finished 2018-19 with an 18-16 mark and a 7-11 record in league play. PC finished last season in eighth place and the squad also advanced to the NIT where it was defeated by Arkansas in the First Round.
Diallo And Watson On Watch Lists: Senior Alpha Diallo (New York, N.Y.) and junior Nate Watson (Portsmouth, Va.) have been named to Watch Lists. Diallo was named to the 2020 Julius Erving Award Watch List. The annual award recognizes the top small forward in Division I men's basketball. Watson was named to the 2020 Kareem Abdul-Jabbar Award Watch List. The annual award recognizes the top center in Division I men's basketball. Both awards are organized by the Naismith Memorial Basketball Hall of Fame and will be presented on April 10.
Cooley And Friars Earned Seventh Consecutive Post-Season Bid: The Friars played in their seventh consecutive post-season tournament in 2019 (NIT) in Ed Cooley's eighth year as a head coach of the Friars. It marked the first time the Friars reached the post season seven straight times since Dave Gavitt's Friars accomplished the feat from 1970-71 to 1977-78 (eight consecutive seasons). When Cooley was hired in 2011, the Friars had finished under .500 in six of the 10 previous seasons and had been to just one NCAA Tournament (2004) in that 10-year span. In 2019, the Friars made their seventh consecutive post-season appearance, including their second NIT berth in those seven years. In Cooley's second season as the Friars' coach, he led the Friars to the 2013 NIT Quarterfinals. In 2014, 2015, 2016, 2017 and 2018, Cooley guided the team to the NCAA Tournament.
Ed Cooley Was Inducted Into The Stonehill Hall of Fame On Nov. 1: Providence College men's basketball Head Coach Ed Cooley was inducted into the Stonehill College Athletic Hall of Fame on Friday, November 1. Cooley, a product of Central High School in Providence, was a member of the men's basketball program at Stonehill between 1989 and 1994, serving as team captain for three seasons. He finished his career with 795 points, 594 rebounds and over 100 assists in 107 career games. Cooley helped Stonehill to four Northeast-10 Tournament appearances, reaching the semifinals his senior year, when he finished seventh among Northeast-10 Conference leaders with 7.0 rebounds per game.
Ed Cooley And Four Friars Help USA Pan Am Games Team To A Bronze Medal In August: A select team of men's basketball standouts from the BIG EAST Conference represented the United States at the 2019 Pan American Games. Head Coach Ed Cooley served as the head coach of the team and led the squad to a Bronze Medal. Four Friars were members of the team — Alpha Diallo (New York, N.Y.), David Duke (Providence, R.I.), A.J. Reeves (Roxbury, Ma.) and Nate Watson (Portsmouth, Va.). It represented the first time a team from a single Division l conference represented the U.S. in the sport of men's basketball in Pan American Games competition. Diallo led the team in scoring (15.0 ppg) and rebounding 5.6 (rpg).
Ed Cooley Ranks Third On The PC All-Time Win List: With the Friars' win versus Butler on March 9, 2019, Ed Cooley recorded his 161st victory as the Friar Head Coach and moved into third place on the all-time win list for PC Head Coaches. The two all-time winningest Friar head coaches are: Joe Mullaney (319-164), and Dave Gavitt (209-84). Cooley has a 167-115 mark in nine seasons as the Friars head coach.
Friars All-Time Versus Top-25 Teams: The Friars have posted a 116-265 (.304) mark all-time versus top-25 teams, including a 0-5 mark in 2018-19.
Friars 64-5 In Non-Conference Action At The Dunk Under Ed Cooley: The Friars have posted a 64-5 mark in nine seasons under Ed Cooley in non-conference home games at the Dunkin' Donuts Center.
"DG" Patch On Friar Uniforms: In memory of former Friar Head Coach Dave Gavitt the Friars have worn a "DG" patch on their uniforms since the 2011-12 season. Gavitt led PC and Eastern basketball into the modern age. In 10 seasons as the head coach of the Friars, Gavitt led PC to 209 wins, including eight consecutive 20-win seasons, five NCAA appearances, three NIT appearances and five New England Coach of the Year honors. He led the Friars to 23 wins over Top-20 teams. His 1973 team made it to Final Four. In 1971, Gavitt was named Director of Athletics at PC, a position he held until 1982 when he resigned to be the director of the BIG EAST Conference. He also was named Head Coach of the 1980 USA Olympic basketball team. He was elected to the Naismith Basketball Hall of Fame in 2006.
Ruane Friar Development Center: Thanks to a generous gift from former Providence College Board of Trustees Chair Michael A. Ruane '71 & '13 Hon. and his wife, Elizabeth Ruane, Providence College began construction of the Ruane Friar Development Center in 2017, the multi-purpose facility has enhanced Friar athletics, student services, and College community life. The project included a two-story structure attached to Alumni Hall. In September 2018, the doors opened to the new facility, which included a basketball practice facility (with two courts), men's basketball offices, a strength and conditioning complex, a locker room, a state-of-the-art sports medicine center, a Hall of Fame and a dining room.
Friars In Overtime: The Friars recorded a 2-2 mark in 2018-19 in overtime games. They have registered a 64-67 mark all-time in overtime games.
Providence College Basketball: The 2019-20 campaign marks the 93rd season of basketball at Providence College. Since the program started in 1926-27, Providence has posted a 1,468-989 mark, good for a .598 winning percentage. The Friars have made the NCAA Tournament 20 times and the National Invitation Tournament on 20 occasions.