Friars Push 7th Ranked Syracuse to the Wire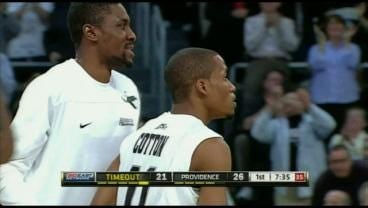 Ken Bell
PROVIDENCE, R.I. –(AP) Jim Boeheim had seen the look before, usually on the faces of opponents who couldn't make their shots over Syracuse and its signature zone defense.
This time, it was Boeheim letting his frustration show."Offensively, we haven't seen zones much. When you don't shoot the ball well against the zone, you're going to have trouble," he said after the Orange overcame 3-for-21 shooting from 3-point range to escape their last Big East visit to Providence with a 72-66 victory on Wednesday night.
"It's probably the worst shooting night we've had."When you don't shoot, it's hard to get ahead against teams playing a zone," Boeheim said, with a nod that acknowledged the irony of his comments.
"I know that."C.J. Fair had 23 points and 11 rebounds, and Michael Carter-Williams scored 17 with six assists as Syracuse (15-1, 3-0 Big East) rallied from a nine-point, first-half deficit. Rakeem Christmas scored 15 with eight rebounds for the Orange, who won their fifth consecutive game since a Dec. 22 loss to Temple at Madison Square Garden — their only defeat of the season.
Bryce Cotton scored 24 for Providence (8-7, 0-3), which lost its fifth in a row. Providence was 9 of 18 from 3-point range, while Syracuse made just 3 of 21 attempts from beyond the arc."Going against a zone (in practice), you know what to do," Fair said. "I think it was just a good road win for us because Providence came out to play.
It was just a hard-fought win."Boeheim is the second all-time in NCAA victories, passing Bob Knight on the career list earlier this month, with most of those wins thanks to the 2/3 zone that has become his signature.
He picked up victory No. 904 on Wednesday night against a Providence zone that could have come right out of the master's playbook.Providence coach Ed Cooley said he didn't look to Boeheim for inspiration but recognized the irony of playing zone against Syracuse.
"It's not the first zone Jim has seen. He's been around as long as I've been alive," Cooley said. "Man-to-man they've got a lot of different answers. They've got an answer at every position.
"With Syracuse leaving for the Atlantic Coast Conference next season, Boeheim spoke at length about his visits to Providence since two schools were charter members of the Big East in 1979."We've been coming here for 34 years. That's a lot of history," he said.
"Every one of these games is a little bit of sadness for me. I know where all the good restaurants are now, and now I've got to go down to Clemson, S.C. I'm sure there's a couple of Denny's down there."Syracuse led 51-50 with under 7 minutes left when Carter-Williams, with the shot clock winding down, made a 3-pointer from the top of the key.
But on Providence's next possession Vincent Council, heavily guarded, fired up an off-balance 3 to avoid a shot clock violation and it went in, too."I don't know how he made that shot. He just threw it up there," Boeheim said.
"But I think the thing I like about my team is they made that shot, (we) came right back down and scored."Syracuse then held Providence without a basket over the next five minutes before Josh Fortune hit a 3-pointer with 68 seconds left to make it 64-58.
The Friars forced a five-second call on the ensuing inbounds pass, then worked it around the perimeter to Fortune for another 3, but that one rimmed out."I thought that ball was going in," Cooley said.
"He doesn't miss too many uncontested looks."After trading free throws, Providence stole the ball in transition and Fortune banked in another 3 to make it 66-62.
But they couldn't get back within four, as Fair went 6 for 6 from the line down the stretch and the Orange were 10 for 10 in the final 81 seconds.Cotton did not start on Saturday against DePaul after having his knee drained the day before.
He came off the bench and scored 16 points in the final 3 1/2 minutes against the Blue Demons, then came out quickly on Wednesday with 17 points in the first half.
Providence entered the game as the last-place team in the Big East, losers of their last four games — including a Dec. 28 loss to Brown.
But the Friars opened a nine-point lead in the first half, making six of 10 from 3-point range in the half, with Cotton sinking his first five attempts.Cotton sank four 3-pointers during a 19-5 run that turned a six-point deficit into a 29-21 lead with 6:48 left in the half.
It was 33-24 when Syracuse scored the final six points of the half, including a 3-pointer by Carter-Williams that was the only 3 the Orange made in the half (1 for 11)."I saw a lot of guys grow up today," Cooley said. "We can't build a culture of losing. It's been frustrating.
But this has been the best I've felt about our team since we played University of Rhode Island" on Dec. 6.
Copyright by STATS LLC and The Associated Press