Friars Seeded 11th, Will Face North Carolina Friday in San Antonio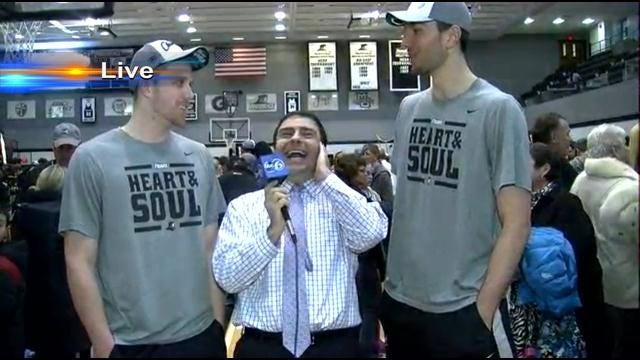 PC new release….
PROVIDENCE, R.I. — It was announced on Sunday, March 16 that the Providence College men's basketball team will be a No. 11 seed and will play sixth-seeded North Carolina on Friday, March 21 in the Second Round of the NCAA Tournament at the AT&T Center in San Antonio, Texas.
The Friars, who have posted a 23-11 mark and a 10-8 record in BIG EAST play (fourth), earned an automatic berth into the NCAA Tournament by winning the 2014 BIG EAST Championship on March 15 with a 65-58 win over No. 14/14 Creighton at Madison Square Garden.
The Friars will be making their 16th appearance all-time in NCAA Tournament and first since 2004 when Providence lost to Pacific at Kemper Arena in Kansas City, Missouri. The Friars have posted a 14-16 mark all-time in NCAA Tournament play. The team has made two trips to the Final Four (1973 and 1987), four appearances in the Elite Eight (1965, 1973, 1987and 1997) and five trips to the Sweet Sixteen (1965, 1973, 1974, 1987and 1997).
Providence and North Carolina have never met in NCAA Tournament play, while the Tar Heels lead the all-time series, 2-1. The teams first met in the 1971 National Invitational Tournament at Madison Square Garden on March 22, 1971, with the Tar Heels posting an 86-79 win. Then on Feb. 12, 1978, the Friars posted a 61-51 win over UNC in Providence, R.I. The teams last met on Feb. 10, 1979 in Chapel Hill, N.C., with the Tar Heels posting an 89-58 win on that day.
Providence is led by All-BIG EAST First Team selection and BIG EAST Tournament Most Outstanding Player senior guard Bryce Cotton (Tucson, Ariz.). Cotton ranks first in the league in assists (5.8 apg) and second in scoring (21.4 ppg). He also leads the nation in minutes played at 39.9 per game.
North Carolina has a 23-9 overall record and concluded ACC play with a 13-5 mark to place fourth. The Tar Heels lost in the first round of the ACC Tournament, dropping an 80-75 decision to Pittsburgh. Sophomore Marcus Paige leads the Tar Heels with 17.4 points per game and 4.3 assist per game. Junior James Michael McAdoo has a team-best 6.7 rebounds per game.
The Friars and Tar Heels are playing in the East Regional and the winner of their game will take on the winner of No. 3 Iowa State and No. 14 N.C. Central. That Third Round game would be played on Sunday, March 23. All game times are TBD.