Fung answers to City Councilors and Community Members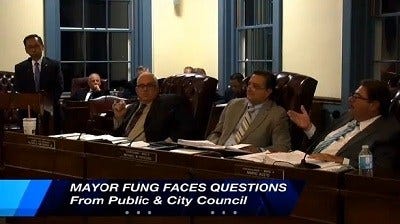 Cranston Mayor Allan Fung was in the cross-hairs of the City Council Tuesday night as they took him to task over the scathing State Police report that called into question both the city's police department and the mayor's own administration.
This was the first time Fung has offered a question and answer session with the council and the public since the release of the report, detailing an investigation into the department following the highly publicized ticket scandal.
Many brought up the issue surrounding how the mayor handled disciplinary action for Captain Stephen Antonucci after the scandal.
Mayor Fung responded by saying he is not trying to hide or run from anything, in fact he was the one who asked the Rhode Island state police for an investigation around the ticket scandal back in 2013.
The City Council President says the next step is for the City Council to meet at the end of the month. They will make a decision on what direction they will go in from this point on.