Fung rolls out budget, promises no new taxes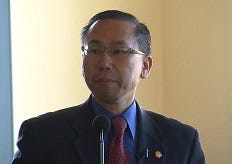 By: Dee DeQuattro
Email: ddequattro@abc6.com
Twitter: @deedequattro
There will be no tax increases for Cranston residents in the next fiscal year.
Mayor Fung made the announcement as part of his 2015 budget address.
Fung presented the $262 million budget to the city council during a special State of the City address on Tuesday night.
The mayor, who is also running for Governor, says Cranston is on track to finish the year with a balanced budget.
"We are working first and foremost to protect the Cranston taxpayers because we realize it's still some very difficult times for everyone that's here and we are very proud of the fact that we for the third year in a row are holding the line on taxes and will not increase the property taxes for residents of the City of Cranston," said Fung.
There will be a public hearing on the budget on Thursday at 6:30 p.m. at city hall.
(C) WLNE-TV 2014