Game winning home run ball stops in Narragansett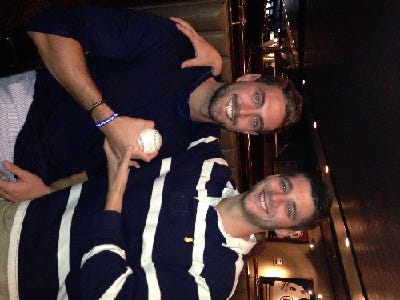 Nicole Gerber
ngerber@abc6.com
@NicoleGerber
NARRAGANSETT – When Shane Victorino hit that grand slam in the seventh inning last night, a group of local friends were sitting in the Green Monster seats.
Mass resident and URI grad Nick Wood picked up the home run ball and hasn't let go since.
At first he didn't even know it was at his feet…. Wood and his friends from North Smithfield were too busy celebrating.
And then they saw it… the ultimate souvenir.
"All four of us were hugging and one of the security guards was screaming 'ball ball ball!' and I had no idea I looked down and it was literally rolling at my foot. Grabbed it and after that it was just pictures and that was it," Wood said.
He made an appearance with the ball and some friends at Charlie O's Tavern in Narragansett this afternoon.
Wood says he's been contacted by Shane Victorino about getting the ball back to the outfielder… but so far no decisions have been made.