Gas fueled fire leaves 21 homeless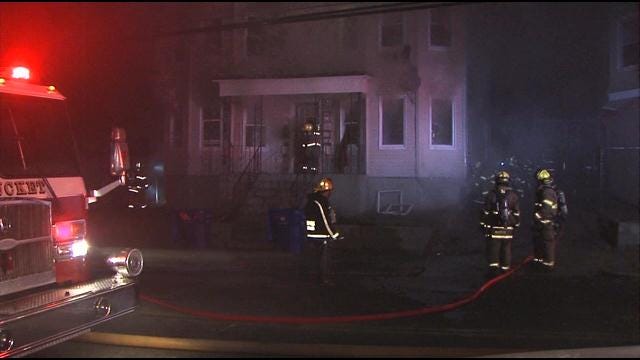 By: Melissa Randall
mrandall@abc6.com
An overnight fire in the 400 block of Mineral Spring Avenue in Pawtucket is under investigation. Local and state officials remain on scene Wednesday morning looking for clues as to what caused the triple decker to go up in flames.
The fire broke out around 10:30 Tuesday night and sent tenants from 8 apartments fleeing from their home. 21 people in all managed to escape unharmed. The building suffered extensive damage and may be a total loss.
Fire officials say they faced several challenges including a gas meter in the basement of the building that was fueling the fire. Just when crews though they had a handle on it, the intense flames started up again.
"It went up into the roof. We played cat and mouse with it for a long time and then we just lost it. We couldn't' keep up with it," said Battalion Chief Robert Neill of the Pawtucket Fire Department.
The utility company was called in to shut of service to the gas line. It took crews about 3 hours to put out the fire. By 6 AM Wednesday they were still mopping up. A city building inspector will be called out and the Pawtucket Fire Marshal says the building will likely have to be torn down.
Three fire fighters suffered minor injuries. One fell through a set of stairs and had a leg injury. The second suffered from smoke inhalation and a third was overcome by nausea. All three are expected to be okay.
The residents are being assisted by The American Red Cross. The Providence Canteen Rehab unit was also on scene.
(C) WLNE-TV 2014
Follow me on Twitter @MelissaARandall