Gas Station Canopy Falls On Father and Son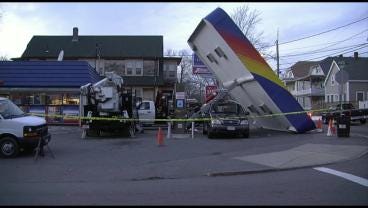 Strong winds caused a canopy at a New Bedford to collapse. It fell down on people pumping gas at the Sunoco X-tra Mart on Durfee Street.
The dad was getting gas at one of the pumps. Then he got in his minivan with his son, who was already in the back seat. Before he knew it, this pole started wavering back and forth in the wind and came crashing down. Gordon Dean's minivan is a wreck. He's just happy he and his 7-year-old son are alive.
"I just got through putting my gas in it, put my son in. I jumped in. It was like as soon as I jumped in I heard boom," said Dean. I thought something had exploded. I thought there was an explosion."
He quickly learned it was the canopy above the gas pumps and the pole holding it up. Gusty winds knocked it down, landing on top of them. Dean was in the front seat, his son Logan was in the back. The pole just missed them.
"I just snatched him out of the car and we got out of the car and got away and went over by the building," said Dean.
That's when he called Logan's mom, who was at work miles away. "I didn't know. I wasn't here," said Patricia Raposo, "Freaked out, scared of course. I'm upset with it yes, it happens I guess. I don't know."
But everyone is okay. Logan thinks it was all an adventure. :I don't think he really realizes what went on, you know, 7 years old he's think Iron Man and stuff like that.