General Assembly Tackles Central Coventry Fire Issue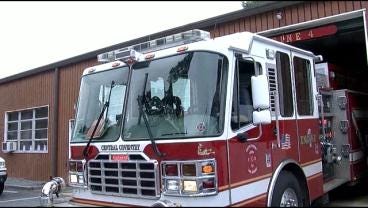 by Mark Curtis, ABC6 Chief Political Reporter
In a sometimes heated State House meeting stakeholders in the Central Coventry fire dispute met with General Assembly leaders and members. All this after a judge ordered the fire district to shutdown April 11th after running out of money.
House Speaker Gordon Fox (R-RI) said, "The judge says the General Assembly is supposed to solve the problem. So part of this meeting with all of these people is to find out, what is the State's interest here and try to find out some of the stuff, that obviously we have not been a part of this case."
The General Assembly is now involved since it created the fire districts way back in the 1800's. One idea is to let surrounding fire departments in Hopkins Hill, Coventry and Western Coventry each take over one–third of Central Coventry's territory.
State Senator Lou Raptakis (D-RI) said, "Well I am favoring the consolidation because that's what was asked upon by the Emergency Management Director, the Town Council and the other three fire districts."
But those three departments might have to pick up Central Coventry's liabilities, including six million dollars for firefighters' pensions. The General Assembly only has 11 days to fix this.
State Senate President Teresa Paiva Weed (D-RI) said, "I am disappointed that the Special Master was not able to deal with this and that we find ourselves in this position."
Right now, 46 firefighters will lose their jobs.
ABC6 Chief Political reporter Mark Curtis said, "On Tuesday. A Superior Court Judge will hold another meeting on the Central Coventry Fire District dispute, but the clock is ticking. Lawmakers here on Smith Hill must come up with a solution by April 11th, because that's when fire and rescue protection runs out in Central Coventry."