Getting Ready For A Little Snow Sunday Night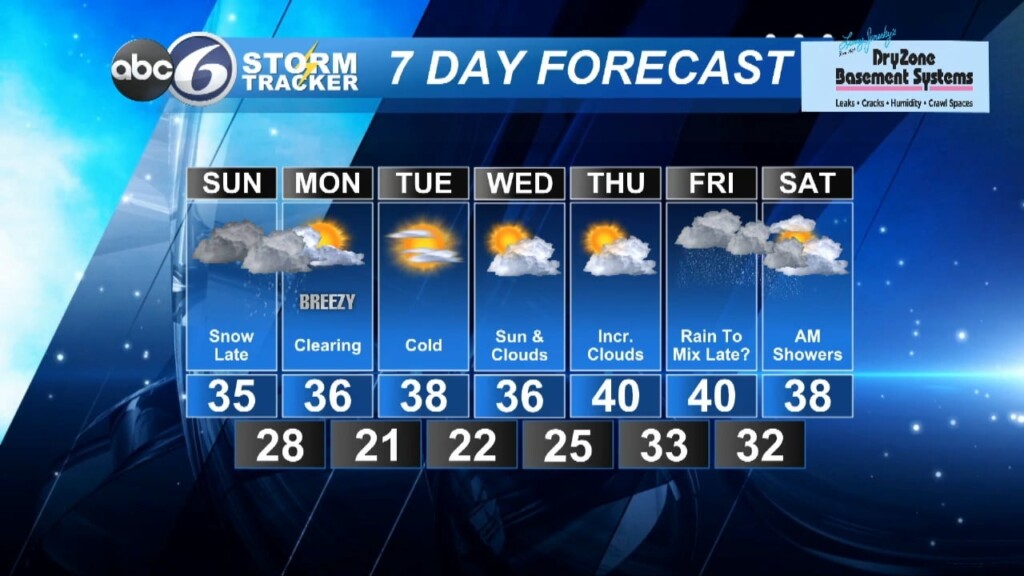 We'll be looking at a cloudy sky tonight with an isolated snow shower or flurry possible. However, if you are in Plymouth county of MA or on the Cape you will see occasional snow and rain showers as a result of Northeasterly winds coming in off the ocean. Folks in this region may wake up to some grassy coatings of snow in the morning. All of this activity is not the main storm system that we've been focusing on though as that is small (Alberta Clipper type) storm system coming our way from the Midwest.
We'll  see cloudy conditions Sunday with the threat of an afternoon snow or rain shower around, but with temperatures in the mid 30s there won't be anything to worry about in terms of any accumulation. Once we get past nightfall though that's when steady light snow overspreads the region. This is going to be a fast moving event, lasting about 10-12 hours and ending by 6-7am Monday, and not a lot of moisture so snow totals look to be minimal. Right now, I'm only expecting about a coating to an inch throughout most of RI with the northwestern hills likely to get 1-2 inches. In all instances most of the accumulations will be on the grassy surfaces, however untreated roads will become snow covered and slick for the Monday morning commute if they aren't treated.  As we go through the day Monday the sky will clear and temperatures will rise into the melting range reaching the mid 30's for highs.
The midweek stretch will be cold and dry with highs mostly in the upper 30s and then by the end of the week there looks to be another storm coming our way. Right now, it looks like rain develops Friday and mixes with or possibly changes to Snow Friday night /early Saturday. It is really too soon to call out any details and the look of that potential storm system will certainly change during the week so tune into ABC6 news for all the latest forecast trends.
ABC6 Meteorologist, Bill Gile