Gina Raimondo kicks off campaign for RI Governor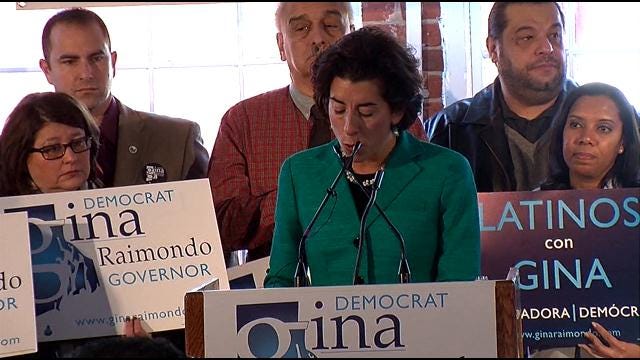 by ABC6 News Chief Political Reporter Mark Curtis
To the cheers of hundreds of supporters Democrat Gina Raimondo kicked off her campaign for governor.
The current general treasurer touted the historic public pension reform as her biggest accomplishment.
"And we did it in a way that brought people together, and invited everyone to be a part of the solution. Our reforms not only saved pensions for public employees and retirees, but we did it in a fiscally responsible way that didn't kick the problem down the road," said Treasurer Gina Raimondo (D), now a candidate for Governor.
Raimondo would be the state's first female governor.
"Buenos Dias, my fellow Latinos in Rhode Island," said State Rep. Grace Diaz (D) Providence.
She was also endorsed by a Latina State Representative; a pioneering lesbian State Senator; and, the state's first female Lieutenant Governor.
ABC6 Chief Political Reporter Mark Curtis said, "To become Governor, Gina Raimondo will first have to get through a Democratic primary facing challengers Angel Taveras, Todd Giroux and perhaps Clay Pell."
But Raimondo's biggest opposition comes from the state's union employees.
Over one hundred firefighters picketed her campaign kickoff, saying Raimondo's pension reforms unfairly harmed them.
"She's put a lot of hurt on firefighters and other municipal employees based on their plans for their future, such as retirement," said Paul Reed from the Rhode Island Association of Firefighters union.
But some private unions are backing Raimondo.
"She's adjusted benefits. She's made sure that the people who are here now have a pension. The people who retired have a pension," said Tim Byrne of the Rhode Island Plumbers and Pipefitters Union.
Raimondo said rebuilding the state's economy and schools are her top priorities.