'God bless Rhode Island': Raimondo reflects on six years in office in final State of the State address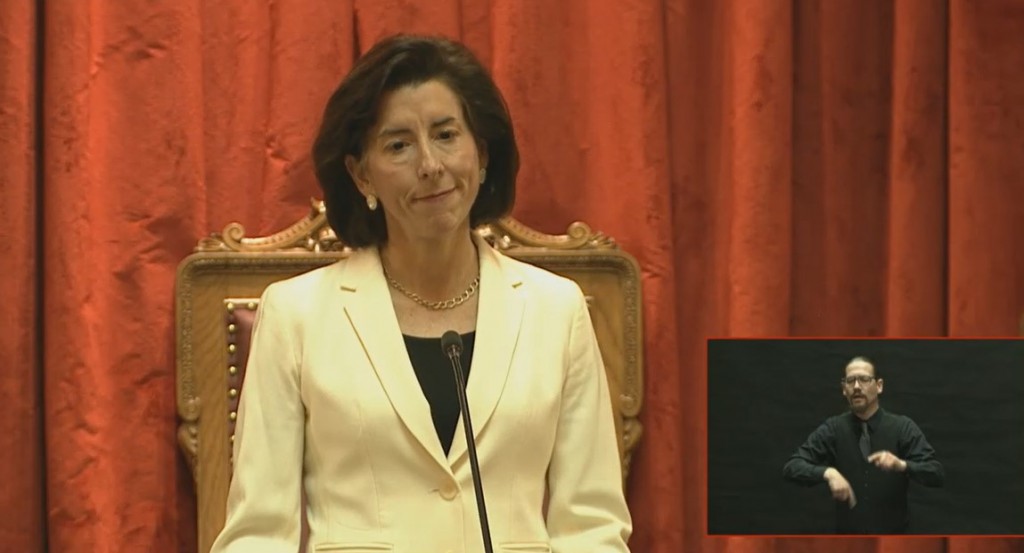 PROVIDENCE, R.I. (WLNE) – Rhode Island Governor Gina Raimondo gave her State of the State address Wednesday night, in a nearly empty House chamber.
Raimondo kicked off the virtual address by acknowledging the fact that it's been a year like no other.
"We did what Rhode Islanders have always done: we innovated, and we persevered," Raimondo said.
She continued, "And tonight, we allow ourselves to envision a brighter, more joyful, more prosperous time ahead. A time when we can be together again with family and friends – when we can work, learn and enjoy each other's company without so many restrictions."
Raimondo told the state that her departure will cause no disruption to Rhode Island's COVID-19 response, as Lt. Gov Dan McKee has organized and maintained a statewide response team.
Raimondo said she thinks the state is in a stable place, with a weekly percent positive of 3.3% – noting that this is the lowest positivity rate that Rhode Island has seen in three months.
Additionally, hospitalizations have been on the decline, 2.5 million tests have been taken, and the state has administered over 100,000 vaccinations.
"We're on the right path, and the end is in sight," Raimondo stated.
The Governor thanked those who have saved lived by cancelling gatherings, wearing masks, and those took part in social distancing.
"As we reflect on the past year, let's begin by recognizing the nearly 2,200 families across our state that have lost a loved one to COVID-19. This virus robbed so many of you of the chance to properly say goodbye," Raimondo told Rhode Islanders in her address.
She continued, "To every Rhode Islander who has lost someone: we grieve with you and we pray for you. Tonight, we're lighting the dome of the State House in memory of your loved ones."
The U.S. Senate Commerce Committee approved Raimondo's nomination on Wednesday, pushing her to only needing 51 votes in the Senate to become part of President Joe Biden's cabinet.
"You have my commitment that I will continue to wake up every day focused on making life better for you, and for all our fellow Americans," Raimondo said to the state.
Reflecting on her past six years in office as governor, Raimondo said, "We went from having the worst infrastructure in the country to more road construction than ever before, creating thousands of good, union jobs in the process. We've also grown our green economy, built the nation's first offshore wind farm, and put Rhode Island on a path to be the first state powered by 100% renewable energy by the end of this decade. Rhode Islanders can be proud that we're leading the way in the fight against climate change."
Raimondo noted her effort on Rhode Island's socioeconomic issues, and raising minimum wage four times.
"Now, more than ever, hardworking people need a raise."
The Governor noted that the state has quadrupled the number of preschool classes, started all-day kindergarten, and became the first state to teach computer science courses in every public school.
Thanking those who have trusted her, Raimondo vowed to continue to being change and opportunity to the American people if she is to be confirmed as Commerce Secretary.
Raimondo wrapped things up by saying she hopes what we remember of 2020 isn't the struggles and hardships, but Rhode Island's strength and fortitude.  She addressed the young women and girls watching, "We need your voice. We need your ideas. We need you to lead."
"To all the young women out there, I want to leave you with their words. Look within yourself, and summon the courage to lead. There will be plenty of times when you're unsure. In those moments, we need you to push aside your doubt and fear, and to say yes. Know that you can be anything you want to be. You are strong and smart and capable."
In her final words, Raimondo said, "Thank you. God bless you. And God bless Rhode Island."