"God was with us on this one"; tree slams into Pawtucket family home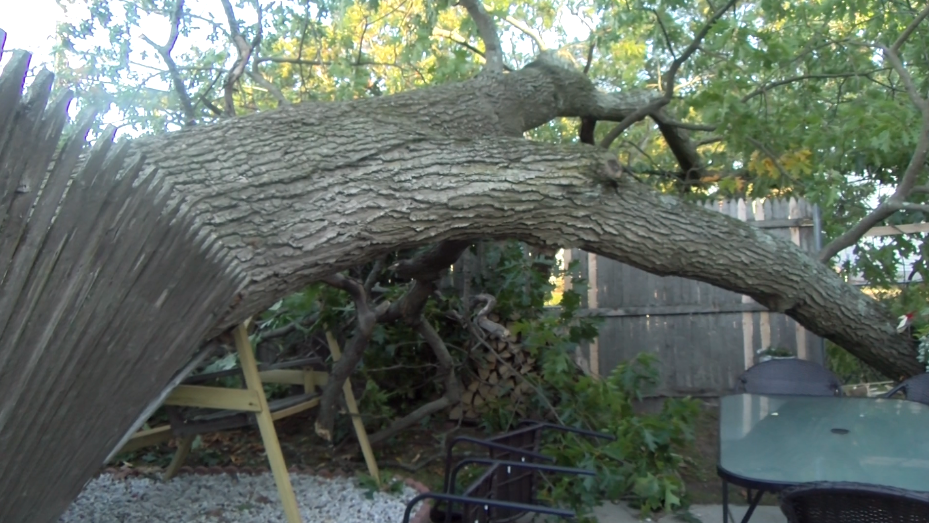 PAWTUCKET, R.I. (WLNE) – Severe storms packed a punch in one Pawtucket neighborhood.
Michael Martinelli says winds came fast and left behind a mess.
"We had a microburst, I guess, and the tree came down," Martinelli said. "We got lucky. It hit the front and the back, but missed most of the house."
The section of Beverage Hill Avenue and Prospect Street is closed off after a tree ripped down power lines and tore the electricity unit off of a nearby home. Neighbors are now left without power and utility workers say it could be for a while.
"It looks okay, it took out a couple of fences," Martinelli said. "The back obviously is… I have a classic car that it hit and a piece of the tree came into the living room."
Martinelli says he was working in his workshop when it happened. His wife was in the house and his daughter was in the living room just 10 feet away from where the tree fell.
"This is where the tree came through," Martinelli said. "My daughter was sitting opposite side of the room. It's minimal damage, considering."
Damage stretched across the state and into Bristol County. The storm teared a tree out of the ground in Chepachet, landing on a home which appears vacant. In Riverside, skies turn black bringing severe wind gusts.
Now, people like Martinelli are left picking up the pieces.
"Go through the appropriate insurances and tree guys and carpenters and whatever we need."
While the view of his backyard isn't so pretty, he says in the end, everyone's safe and it's all replaceable.
"It's just material at this point, we don't really care. God was with us on this one," Martinelli said.
There were also a few school closures Thursday due to downed trees and power lines. Oldham School in East Providence and all Scituate Public Schools cancelled in-person class.