Gold Star parents attend wreathe laying ceremony at RI State House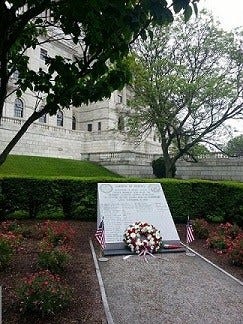 Memorial Day observances can be especially difficult for parents who lost a child in war, but Friday several Rhode Island Gold Star parents put on brave faces to make sure their child's sacrifice does not go unrecognized.
The annual wreathe laying ceremony was held at the Garden of Heroes at the State House. No new names were added this year, a comforting thought for John Mancini of North Providence who lost his son, Curtis, in 2004.
"He was just in Afghanistan approximately 28 or 29 days when he was killed," said Mancini.
About two dozen people gather to pay their respects to the fallen service men and women ahead of Memorial Day. Gold star mom Lynn St.Germain– Lundh has a plea for the public as the holiday approaches.
"Remember why you have the day off. Remember that it's because of people like my son Brian who was killed in conflict," she said.
Local gold star parents are renewing an effort to get a symbol to fly in the state to remind people of that sacrifice.
"We have a flag that flies beneath the national colors– a black and white flag which is a POW/ MIA to remind people of those solider that never came back, but we don't have a flag that reminds people of those that didn't come back and actually killed. That's what we're looking for," said Mancini.
The group has attempted, unsuccessfully, for years, to get support for a bill that would make the honor flag the state's official emblem for the fallen warriors from all wars. Gold Star dad Richard August is hoping this will be the year it is allowed to waive.
"Frankly, I think for people who have lost a son or daughter, husband or wife, brother or sister to see this resistance is very painful to some of us," said August.
August says 17 other states across the country have already adopted the 'Honor and Remember' flag. He and the parents say they have no plans of letting up on the issue.
© WLNE-TV 2014
Follow me on Twitter @MelissaARandall