Gomes' homer in bottom of 9th gives Boston 2-1 win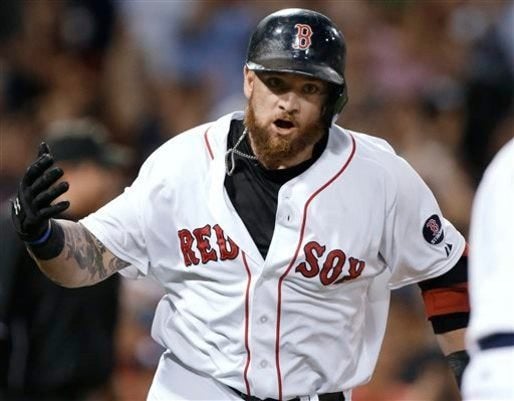 The Associated Press
BOSTON (AP) — Pinch-hitter Jonny Gomes homered leading off the ninth inning to lift the Boston Red Sox to a 2-1 win over the suddenly offensively challenged San Diego Padres on Wednesday night.
Mike Carp had two hits and scored a run for Boston, which is 7-1 on its nine-game homestand that concludes Thursday against the Padres.
Carlos Quentin went 3 for 4 with a double and two singles for the Padres. San Diego has scored just five runs in its five-game losing streak.
Gomes lined a 2-2 pitch off Luke Gregerson (4-4) into the first row
of seats above the Green Monster for his second game-ending homer of the
season.
Koji Uehara (2-0) pitched one inning for the win.
The Red Sox squandered a good chance in the eighth. Dustin Pedroia
led off with a double off the Green Monster against Nick Vincent. After
David Ortiz was intentionally walked for the second time, Gregerson
relieved and retired the next three batters, striking out Daniel Nava
and Jarrod Saltalamacchia.
San Diego starter Edinson Volquez pitched six innings on his 30th
birthday, giving up one run on seven hits, striking out six with one
intentional walk.
Boston's Jon Lester
had a similar line over seven, allowing six hits, one run, walking one
and striking out five. He entered just 2-4 with a 6.98 ERA in his last
eight starts.
Lester labored in the first, throwing 32 pitches and giving up a run.
Plate umpire Doug Eddings called time just as Lester was starting to
throw a pitch to Quentin. It hit him on the left foot, but was waved
off. Quentin then proceeded to have a 10-pitch at-bat, reaching on an
infield single. He advanced on Chase Headley's single and scored on Kyle
Blanks' single to center.
Boston tied it 1-1 when Carp singled leading off the fourth and
scored when left fielder Quentin misplayed a carom off the Green Monster
on Saltalamacchia's double.
Lester settled down after the first, retiring the Padres in order on
just five pitches in the second. He gave up a hit, but needed only 12 in
the third.
Volquez struck out the side in the second after allowing Carp's leadoff single.
Both dugouts were warned by Eddings after Volquez hit Jose Iglesias with the first pitch in the third inning.
NOTES: Red Sox RHP Clay Buchholz, on the 15-day since June 9 with a
neck strain, threw from flat ground at about 100 feet. He was excited to
get back to throwing for the second straight day. ''I've been anxious
for a while,'' he said, still sweating from the workout in front of his
locker about three hours before the game. ''Today was more intense.
Probably the most intense.'' Buchholz was 9-0 with a 1.71 ERA before the
injury. … The Padres made a lineup change about three hours before
the game, moving Quentin from DH to left field and Blanks from left to
DH. … Red Sox manager gave 1B Mike Napoli a rest and inserted Carp at
first, batting him sixth. ''Trying to get a few more left-handed bats in
the lineup,'' Farrell said. … Quentin was 0 for 11 in his career
against Lester. … Boston SS Iglesias was named AL rookie of the month
for June, the first Red Sox player to win it since Jacoby Ellsbury did
it in Sept. 2007. Iglesias hit .395 in 25 games. … Game time
temperature was 87 degrees with a steamy feeling in Fenway. … The
clubs conclude the three-game series Thursday afternoon with Boston
rookie Allen Webster (0-2, 9.50 ERA) making his fifth major-league start
against San Diego left-hander Eric Stults (6-6, 3.51 ERA).