Gov. Baker's goal of vaccinating 4.1 million people by June on track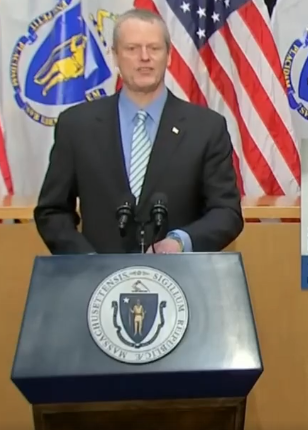 Nearly 4 million people in Massachusetts have been fully or partially vaccinated. With 180,000 people scheduled to get their first dose in the next 7 days, the governor's goal of vaccinating 4.1 million people by the beginning of June is right on track. That being said, Governor Baker also mentioned that around 30 percent of the population still hasn't been vaccinated at all.
So there is work that still needs to be done.
That is why on Monday his office announced the next phase of the state's vaccination efforts. Moving forward, Massachusetts will be transitioning from mass vaccination sites to more targeted efforts. Right now the state is a national leader for vaccine distribution across the country, and Governor Baker thinks reaching the remaining unvaccinated people in the state, comes from hitting specific communities.
"In some cases it's literally just us getting to them," he said.
So the next phase will include, doubling the state's vaccination allocation for the 20 most disproportionately impacted communities, while also expanding mobile vaccination clinics in those places, specifically targeting senior centers, houses of worship and other community-based organizations.
Along with that, Governor Baker says they will be ramping down the state's seven mass vaccination sites. By the end of June the hope is to close four out of the seven mass sites, including Gillette Stadium and the Hynes Convention Center.
In the coming weeks, the state is expecting that the CDC could authorize vaccines for children ages 12-15. In the meantime Governor Baker urges anyone over the age of 17 to sign up to get vaccinated now. You can do that at mass.gov/covidvaccine.