Gov. Chafee says he will not veto hospital merger bill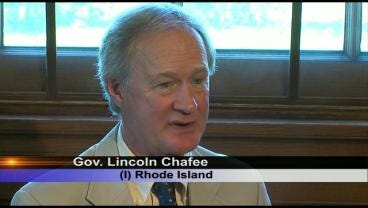 WOONSOCKET, R.I. (AP) – Rhode Island Gov. Lincoln Chafee (CHAY'-fee) will not veto legislation that removes an obstacle to the purchase of Landmark Medical Center by a Massachusetts hospital chain.

Chafee spokeswoman Christine Hunsinger says Friday that Chafee will let the legislation become law without his signature.

The legislation makes changes to the Hospital Conversions Act sought by Steward Health Care System. It specifically eliminates a three-year waiting period for a for-profit company to buy another hospital.

Chafee indicated earlier this week he might veto the bill, and Woonsocket officials worried that would kill the deal.

Mayor Leo Fontaine says the hospital's closure would be devastating to Woonsocket.

Hunsinger says Chafee decided the bill's benefits outweighed his concerns. She says he will propose legislation next year to remedy some inconsistencies in the bill.