Gov. Raimondo discusses how schools will handle COVID-19 testing after reopening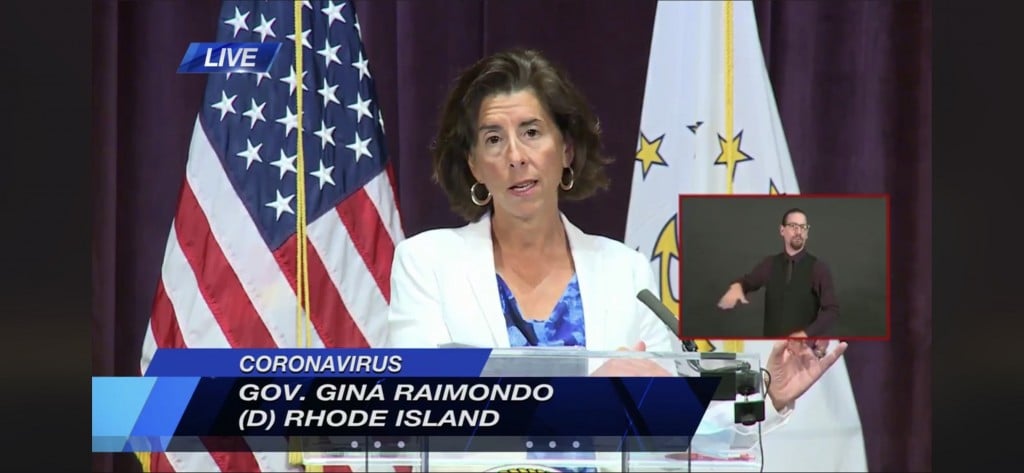 PROVIDENCE, R.I. (WLNE) – Governor Raimondo discussed during Tuesday's press briefing how COVID-19 testing will specifically be handled in K-12 school districts across the state of Rhode Island.
As the thought of heading back to school looms in parents' minds, the governor assured the people of Rhode Island that the state is in a very stable place. The current test positive rate is at 1.5 percent.
Testing will continue to be an incredibly powerful tool as we continue to get back to normal.
Rhode Island has lead the nation with per capita testing and continues to do so. Being a leader with testing means finding more virus cases.
The state's average turnaround time for test results is approximately two days and the state expects to maintain this turnaround time.
Raimondo said, with the aggressive and strategic testing approach, the state has been able to keep a lid on the virus.
With the green light given on Monday for most school districts across the state to return to full in-person learning on September 14, the state has created a testing system just for schools.
The testing system will be available to all K-12 students and staff in both public and private schools. The system will allow for 4-thousand PCR high quality and accurate tests per day with results provided within 48 hours. Rapid tests like those that used to run at the Twin River CVS site will provide students and staff with results in just minutes. The state will be able to conduct 1,200 of these tests per day.
The governor announced that if a student or staff member wakes up feeling sick, they are to stay home and to schedule a test for that day. A dedicated K-12 testing hotline number will be shared closer to the start of school.
Twelve sites throughout the state will provide safe, convenient and quick testing for students and teachers.
The governor discussed how the rapid test is incredibly valuable, allowing to immediately identify positive cases. She said, "speed matters and saves lives." The rapid test also leads to better and quicker contact tracing and quarantining.
Students and staff will be required to stay home while waiting for their more accurate PCR test results.
If you test negative, you can return to school after symptoms improve and you have been fever free, without a fever reducer, for 24 hours.
If you test negative, you must remain at home, isolated for at least 10 days and fever free without a fever reducer, for 24 hours before returning to school.
Students who test positive will learn remotely from home.
Students who become sick in school will immediately be sent to a dedicated isolation room. The governor assured everyone that all school's will have an adequate dedicated isolation room where students will wait to be picked up and instructed to follow procedures for testing.
On Wednesday, Raimondo expects to discuss contact tracing, case investigation, quarantining, and how schools will deal with outbreaks.