Gov. Raimondo hosts conversation on gun violence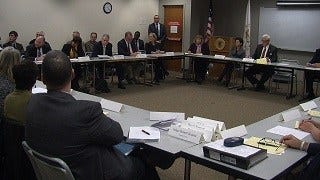 In the wake of what seems like a continuous string of mass shootings, Governor Gina Raimondo organized a roundtable discussion with local and state leaders to talk about ways to stop gun-violence here in the Ocean State.
"We spend entirely too much time expressing our sympathy and sending our thoughts and our prayers to victims and not enough time getting around a table and saying what can we do?" said Raimondo. "The point of this is to have that discussion, have that conversation about what are some common sense solutions we could get behind, to actually ask the questions and explore, are we doing enough in our mental health and mental illness. I think the answer is clearly no."
The discussion began with an explanation of the system used in the state to determine if people are eligible to buy guns. Members of the panel were able to ask questions and voice concerns.
"It's good to hear the different ideas," said State Police Col. Steven O'Donnell. "I think these conversations always happen after something tragic, what happened in San Bernardino, it galvanizes it and something will happen a week from now. And, that's why we want to try to prevent it. Prevent, prevent, prevent."
Judge Francis Darigan the leader of the roundtable says it's not just about making laws, but also about promoting awareness.
"Gun violence can't be controlled simply by legislation it's got to be by the good will of people who are vigilant who report suspicious activity particularly in the area of terrorism," said Darigan.
A bulk of the meeting was spent discussing legislation that did not go through last year concerning guns owned by domestic abuse offenders.
© WLNE-TV 2015