Gov. Raimondo to issue further restrictions on grocery, retail stores
The governor said the $1.25B in aid will give the state some "breathing room" during fight against COVID-19; 8 new positive cases announced in R.I.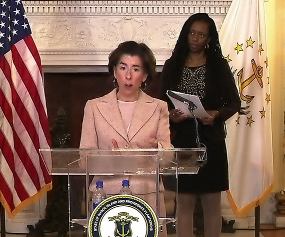 PROVIDENCE, R.I (WLNE) – Governor Raimondo said that new guidelines on the numbers of people allowed into grocery and larger retails stores would come as soon as today at an afternoon press conference.
How many people would be allowed in at a time was not immediately clear from the governor's statements. Raimondo said guidance on how lines should form outside were also forthcoming, along with stricter cleaning requirements for the stores.
Regardless, people should follow social distancing protocols anywhere they shop, the governor said, urging people to avoid long lines and crowded stores.
"If there's a long line at the deli counter, leave and come back," Raimondo said.
Raimondo said state and local police would be conducting spot checks to make sure retailers and residents are complying with the new restrictions.
The governor praised the work of Rhode Island's congressional delegation in approving the latest $2-trillion stimulus package that is slated to bring $1.25-billion in relief to the state. Financial support is slated for small businesses, low-income residents, and the state's cash-strapped hospitals.
"Very critically, its going to provide unemployment benefits to groups of people typically not eligible for unemployment insurance," Raimondo said. "Independent contractors, small business owners, hair-dressers, my heart goes out to you guys– you're the ones unable to file for unemployment insurance and yet you're out of work."
The state has seen 8 new positive cases of COVID-19 overnight, bringing the total to 132. The newest cases consist of 5 males and 3 females, ranging in age from their 30s to 60s.
Dr. Nicole Alexander-Scott, director of the Rhode Island Department of Health, issued guidance on elective surgery, acknowledging that such surgery can be necessary. Elective surgery means that it was scheduled at a prior date, unlike surgery required because of a life-threatening injury or trauma such as a heart attack. The state is not banning elective surgeries at this time, Alexander-Scott said.
The governor also acknowledged that the state's ban on dine-in restaurants was certain to continue past the March 30 date she had initially proposed, though she was unable to say with certainty how far the ban would extend.
©WLNE-TV/ABC 6 2020