Governor addresses R.I.'s youth, Easter Bunny not in Quarantine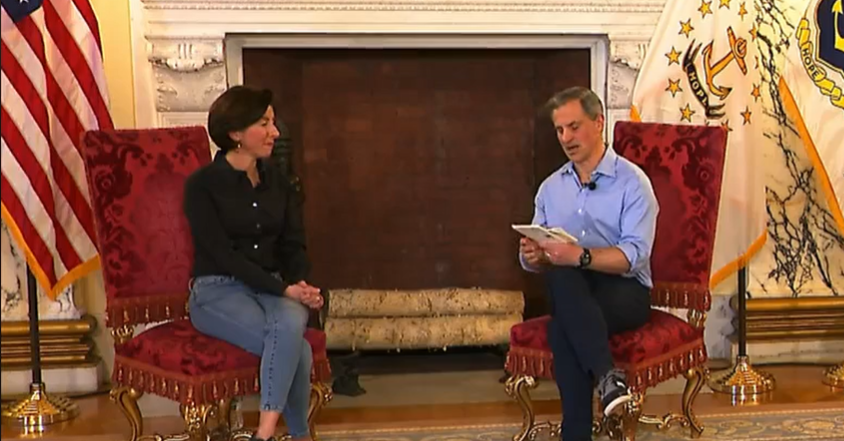 PROVIDENCE, R.I (WLNE) – Governor Raimondo, along with First Gentleman, Andy Moffit answered nearly a dozen COVID-19 related questions in a briefing for the children of Rhode Island.
More than 13,000 students across The Ocean State submitted questions, according to the Governor's office.
Before answering questions directly, Governor Raimondo announced the expansion for Bradley Hospital's Kids Link, a hotline for children in emotional distress during the pandemic.
Raimondo urged any child who is feeling is feeling scared, needs help, or just need somebody to listen to call 855-543-5465.
The Governor started with a question from a kindergartener in Smithfield, "what can kids do to help out during this time?"
She said the best thing kids can do at this time is to wash their hands, and wash their hands constantly, and to try extra hard to do what their parents tell them.
"I know it's not always easy, I've been a kid myself, and I have kids, but we're all kind of stretched right now- it's a hard time for everybody. So if you can try a little extra hard to follow the directions of your parents and your teachers, it will help you, it will keep you safe, and it will help everybody."
With Easter quickly approaching, a kindergartner from Cumberland asked The Governor, "is the Easter Bunny quarantined?"
Raimondo, with a smile on her face, said she would never quarantine the Easter Bunny.
"The Easter Bunny is an essential worker and is not quarantined", she said.
With growing concerns about events and large school gatherings, an 11th grader posed the question, " who decides if events like prom and graduation are canceled, because of the coronavirus? And, if they are canceled how would the situation be handled?
The Governor answered by acknowledging the unique situation in which the class of 2020 finds itself.
"I'm really sorry. This stinks. This is not the senior year you hoped to have."
She said it is unlikely that proms and graduation will be held, but encouraged the students to reach out to her with creative ideas about how to hold the events in the future.
Governor Raimondo will return to hosting regular briefings as the state works the pandemic.
©WLNE-TV/ABC6 2020