Governor Chafee Rescinds E-Verify Order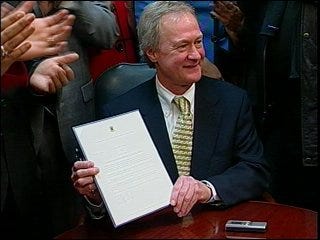 Rhode Island Gov. Lincoln Chafee started his first full day as governor by rescinding a controversial executive order signed by his predecessor that cracked down on illegal immigration.
Chafee took the action Wednesday morning at the International Institute in Providence, which provides educational, legal, and social services to immigrants.
The immigration order was signed by Republican Gov. Don Carcieri in 2008.
It requires state departments and state contractors to use the federal E-verify system to check the legal status of new employees, and directs State Police to assist with immigration enforcement, among other measures.
Chafee, an independent, has said the order is divisive.