Governor Elect Gina Raimondo Takes Victory Lap on Federal Hill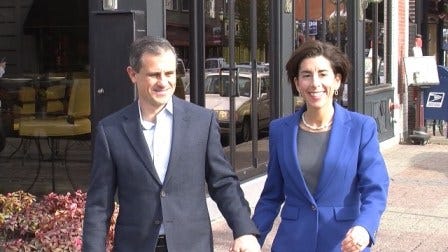 Mark Curtis
ABC6 Chief Political Reporter
It was a victory lap on federal hill, as governor elect Gina Raimondo thanked voters and made plans for getting started in the state's top job.
"In the coming days I'll be making some announcements about my transition team. And then in the coming weeks, and months we'll obviously be making some announcements about staff. Yeah, but we have to hit the ground running," said Raimondo.
Raimondo would not rule anyone out for jobs. even former opponents Angel Taveras and Clay Pell.
For now voters were thrilled to meet with her.
"I voted for her. I think it's time for a change of sexes in the State House. I think it's time for a woman Governor," said Raimondo supporter Mokouteh.
Raimondo is Rhode Island's first female governor which begs the question, what do we call her spouse Andy Moffit. Is he first husband of Rhode Island?
"Sadly there are not nearly enough male role models for me to follow, because you know there aren't nearly enough women governors, women in politics, but we'll figure out who I can learn from. I'm pretty excited, yeah," said Moffit.
And the Governor-elect agrees that it is time for her to reach out and sit down with some of those who have opposed her the most
including the state's public union employees who have picketed her, over her pension reforms.
ABC6 Political Reporter asked Raimondo, "how do you bring them into the tent?"
"Yes, absolutely, sit down with them. And say, 'let's move forward.' We haven't always agreed on everything, but we've got to move forward. It's in everybody's issues to fix these issues," answered Raimondo.
Raimondo will be sworn in as governor on January 6.