Governor McKee delivers first Rhode Island State of the State address.
McKee: "Tonight, I am here to lay out our administration's plan to build a stronger tomorrow."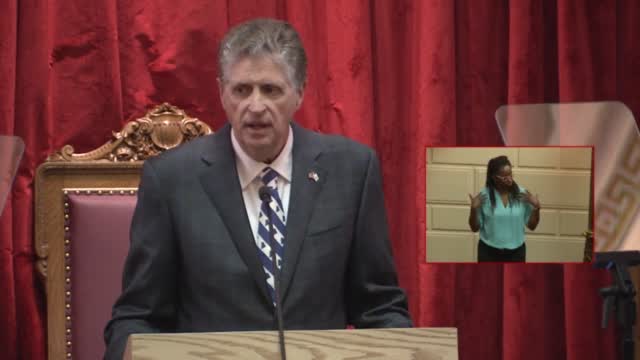 PROVIDENCE, RI (WLNE) –
Governor McKee delivered his first State of the State address tonight from the Rhode Island House Chamber, reflecting on lives lost to the pandemic and pledging to tackle "kitchen table issues" in 2022. "It's because of you, Rhode Island, that I can stand here before you tonight with confidence and say that the state of our state is resilient and full of opportunity."
Opening the address with a statement on the COVID-19 pandemic's impact on the state, McKee praised health workers for making Rhode Island second in the country for highest number of vaccinations. He also announced the state performed four times more testing per capita than neighboring Massachusetts at 175,000 tests.
In a somber moment, McKee referenced 39 flags placed around the room that represented each city and town in Rhode Island. "This once-in-a-generation public health crisis has taken more than 3,000 of our fellow Rhode Islanders- and we remember each and every one of them."
The Governor revealed pursue funding for major investments in everyday issues, including $50 million to combat the state's housing crisis through funding down payments for those in greatest need. "For Rhode Island to be an attractive place to live, work and raise a family, we must address the availability and quality of housing."
In support of those families, McKee also proposed changes to healthcare in support of new mothers and children. "I am proud to propose that we cover all kids in Medicaid-we've done it before, let's do it again. Let's also extend Medicaid coverage for new moms from 60 days after birth to 12 months."
Investments in education include:
$250 million to continue a commitment to school construction bonds
$50 million to crucial smaller projects such as better heating, cooling and safety upgrades
$430 million for the construction of education facilities including URI's Narragansett Bay campus and Rhode Island College Student Success center
Enacting Rhode Island's first Higher Education Academy to provide access to education and training
Proposed funding to forgive student loan debt
Additional grants for small businesses were also on the table, including:
"Millions" in unspent CARES dollars being routed to help small businesses stay afloat with a focus on tourism, hospitality, and small farms.
Reducing the corporate minimum tax
Appointing a Taxpayer Steward within the Department of Taxation
Projected $10 million to minority business support
Good news for restaurants: to-go alcohol might be staying
McKee also hinted at funding for climate change initiatives such as Netzero 2050 and creating the nation's premier "smart bay" in partnership with URI to conduct research on, develop and test ocean tech.
Following the address, Republican House Minority Leader Blake Filippi issued a response to the Governor's speech. "The truth is, in Rhode Island, it's not about being a democrat or republican. It's about those with power and influence who call the shots and always get ahead, versus those without power and influence who are always left to foot the bill and suffer the consequences."