Governor Raimondo expresses caution for those celebrating over 4th of July weekend
The Rhode Island Department of Health (RIDOH) reported 27 new COVID-19 cases and 6 deaths Wednesday. There were 1,829 tests recorded on Tuesday, according to data.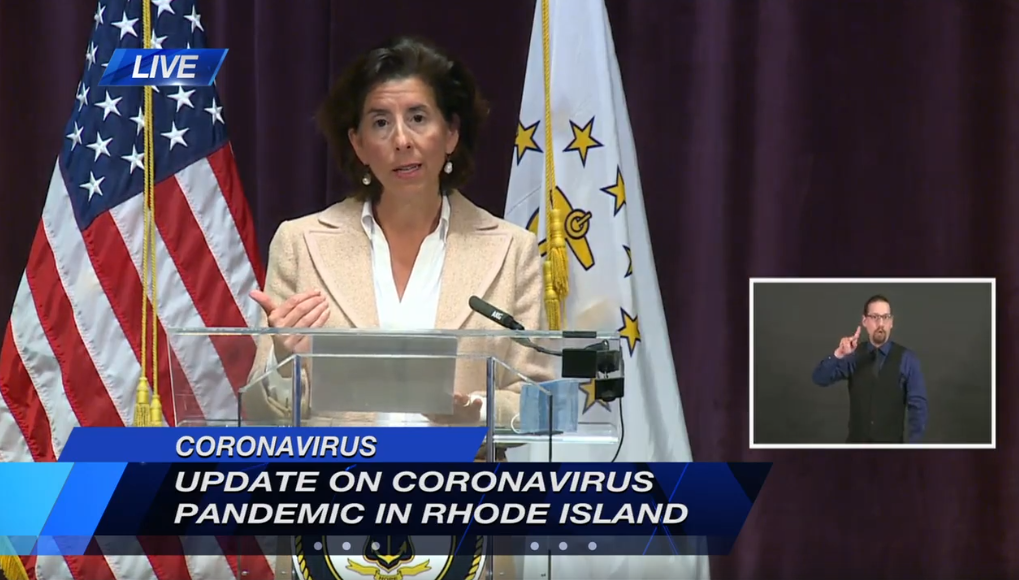 PROVIDENCE, RI (WLNE) – Governor Raimondo addressed Rhode Islanders today expressing her concern for those celebrating over the Fourth of July holiday.
The Fourth of July is a big, special and important weekend for Americans and the governor is excited, yet worried. She reiterated from Monday's press briefing that Texas attributes their current spike in cases to large gatherings that occurred over Memorial Day. Arizona attributes their current uptick to large gatherings for protests and people not wearing masks. 
Governor Raimondo said she wants all Rhode Islanders to enjoy fireworks displays, going to the beach, and getting together for a barbecue, but everyone must follow the rules. She said people need to wear masks when not able to socially distance, avoid crowds, and get tested if feeling sick. 
She supports everyone celebrating, as long as they are doing so safely. All Fourth of July public events and congregations outside must be no more than 250 people. Municipalities with events will receive one thousand masks to be distributed to patrons attending a celebration. 
As a reminder, anyone looking to host or be a part of a social gathering should keep their invite list to 25 people or less. Raimondo said, "If you do a good job, in two to four weeks we will see that you did a good job. If not, in two to four weeks we will see a spike in cases." 
The governor also provided the grim fact that people are still dying from the coronavirus every day in the state of Rhode Island, across the nation and around the world. 
As the Fourth of July weekend quickly approaches us, there are still reports of congregating at parks and beaches and of people not wearing masks when going to the concession stands. Over the holiday weekend, the RI DEM will be distributing masks at parks and beaches and asking beach patrons to comply with these regulations to keep beach goers safe. Raimondo also announced that, "It is not off the table to close the beaches, if need be." But, does not want to.
She said, "Let's show the rest of America how well Rhode Island does over the Fourth of July."
Raimondo also discussed bars across the state. She said that 18 percent of bar businesses were not in compliance with the proper rules and regulations they need to follow to remain open. Bars need to be operating as a restaurant to be open. The governor said, "I really do not want to close bars, but will have to if there continues to be improper compliance." Going forward she wants bar businesses to try harder and announced the state will be cranking up enforcement. 
Today's conversation transitioned to discussing the fact that nursing homes and elderly care in the state and around the country needs to be addressed and improved. Raimondo talked about creating better, stronger, and safer nursing homes with additional options for home care and community support. 
She said the state will make additional investments for immediate needs for nursing homes such as PPE, support, and inspections. While these changes will not come in a day, week, or a year, but Raimondo wants to make a step in the right direction in bettering elderly care. She asked healthcare workers to totally re-imagine care. To imagine single rooms for patients, single room bathrooms, and additional specialty units. 
Lastly, it was announced that 70 percent of childcare operations in the state have reopened safely and are following the rules. Raimondo said, "I can't find a better state handling child care." The governor's goal is to get 100 percent of Rhode Island's childcare facilities up and running as soon as possible. In doing so, she is allocating an additional $5 million dollars to be used in getting facilities the equipment and guidance concerning space reconfiguration they will need. 
Rhode Island COVID-19 Update:
The Rhode Island Department of Health (RIDOH) reported 27 new COVID-19 cases and 6 deaths Wednesday. There were 1,829 tests recorded on Tuesday, according to data.
Rhode Island's death toll is at 956.
Hospitalizations declined a bit as 69 people are in the hospital, 11 are on the ventilator, and 11 are in the ICU.
Rhode Island has seen 16,853 positive COVID-19 cases since March.