Governor Raimondo to go before Senate Commerce Committee, bringing her one step closer to new role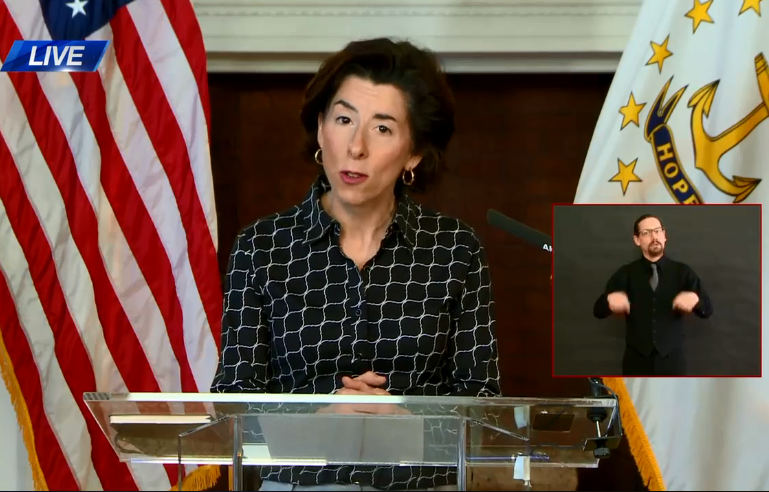 PROVIDENCE, R.I. (WLNE) – Tuesday morning, Governor Gina Raimondo will defend her nomination for Secretary of Commerce. She'll go before the Senate Commerce Committee and if approve, she will be one step closer to taking on her new role in President Bidens' cabinet.
The Governor is expected to testify virtually from Rhode Island. She will be introduced by Rhode Island Senator Jack Reed and peppered with questions on operations and most likely, Biden's economic plan.
The Governor has served for two terms and said she will remain at her post until confirmed by the Senate.
It was just a few weeks ago when Governor Raimondo took the stage with President Biden and his other cabinet picks. Governor Raimondo was officially introduced as the next Secretary of Commerce for the United States.
"To help spur good paying jobs, to empower entrepreneurs to innovate and grow, to come together with working families and American businesses to create new opportunities for all of us," Governor Raimondo said.
The Governor has still not released any sort of timeline for her departure, which may be pending on this hearing today. If approved, Lt. Governor Dan McKee is expected to take over shortly after.
R.I. House Republicans aren't fond with the Governor wearing two hats and says the state needs a leader who can deal with our public health crisis head-on. Minority Leader Blake Filippi says he wants the Governor to give an exact date on when the reigns will be handed over to the Lt. Governor.
"The ability to communicate with your constitutions during a public health crises is paramount," Filippi said. "And if we aren't getting it all bets are off."
As for next steps, the confirmation hearing is a crucial one. The Commerce Committee will vote to send her nomination to the floor and if that happens, she'll need to wait for Senate leaders to schedule and hold a final vote to confirm her.
The hearing can be viewed here.
To view the questionnaire submitted by Raimondo to the committee, click here. To view her written testimony, click here.