Rhode Island lifting capacity restrictions and most mask mandates Friday
Governor and Health Officials Detail Full Reopening for Most Industries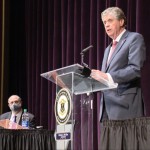 PROVIDENCE, R.I. (WLNE) – Rhode Island Governor Dan McKee and state health officials Thursday detailed plans to fully reopen Friday, May 21st.
Beginning Friday, most industries will return to full operations, with no restrictions. Businesses have been given discretion to decide their own restrictions, if necessary.
Healthcare facilities, nursing homes and other care facilities will continue to operate with certain restrictions remaining in place. Businesses or organizations with the following: Indoor dining, bar areas, catered events, houses of worship, retail, gyms, personal services, venues of assembly, funeral homes, offices, and social gatherings; will be able to lift all restrictions. However, health officials say this applies only to those who are fully vaccinated. Those who are not fully vaccinated are required to continue practicing masking and social distancing.
Governor Dan McKee said, "tomorrow is the tomorrow that many, many people across the state have been waiting for since the pandemic began, tomorrow, with a few exceptions, we'll be reopen."
The Governor noted that 70% of Rhode Islanders have received at least one vaccination, calling it a strong sign of the state's progress in fighting COVID-19. Case counts and hospitalizations continue to drop across the state.
The state's work, however, is far from over. Governor McKee noted that they'll continue to focus on getting more residents vaccinated. "People that are not vaccinated, we want you to wear masks and seek out the ability to get vaccinated, allowing us to reopen our economy and our schools," McKee said.
©WLNE-TV/ABC6 2021