Central Falls 2nd RI district to 'try on' school uniforms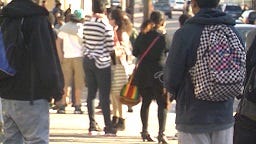 Dee DeQuattro
A bill that would implement a citywide dress code in Central Falls public schools has been signed into law.
The bill would implement the dress code in order to control the environment in schools and curb violence due to dress and gang regalia.
With a dress-code the bill notes that students will not associate each other with particular "gangs" or group and therefore can focus on learning and not on the threat of violence. It also notes that faculty and staff will be able to spend less time familiarizing themselves with the "subtleties of gang regalia"
The policy would restrict "gang related apparel" while giving students "several options or selections within different categories from which to choose."
According to the law the dress code will be implemented on or before January 1, 2015 provided that parents and guardians are given six months notice prior.
(C) WLNE-TV 2013