Governor signs legislation banning conversion therapy for minors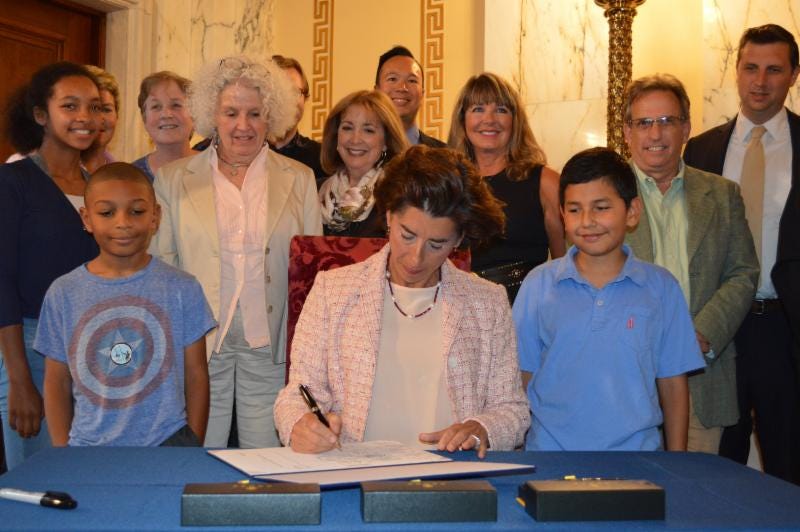 By: News Staff
Email: news@abc6.com
Twitter: @ABC6
PROVIDENCE, R.I. (WLNE) — Governor Gina M. Raimondo, signed legislation banning conversion therapy for minors on Tuesday.
Rhode Island has now become the tenth state to protect minors from the horrific ramifications of conversion therapy, authorities said.
"LGBTQ youth should know that there is a place for them in Rhode Island," Governor Raimondo said. "Conversion therapy is archaic, harmful, and should never be inflicted upon children. Countless studies have demonstrated that the psychological effects of conversion therapy are lasting and often devastating. As allies, we must continuously rededicate ourselves to the cause of equality and ensure that our policies match our values. I'm proud to sign legislation banning this horrific practice for minors."
Proven to be psychologically harmful, conversion therapy was aimed to change an individual's sexual orientation or gender identification, and has been linked to higher rates of depression, alcohol and drug abuse, and even suicide.
Conversion therapy is widely condemned by the medical and mental health community, officials noted.
"The barbaric practice of torturing our children with conversion therapy needs to end before any more harm comes to our LGBTQ youth. Study after study has shown that not only does this cruel practice simply not work, but, it also creates lasting harm in the form of a multitude of intense psychological and societal problems. If this practice can be so damaging to adults, it has no place being forced upon our children," said Sen. Donna M. Nesselbush.
"Conversion therapy is worse than ineffective; it can be extremely harmful, especially in children. Sexual orientation, as well as gender identity, is widely recognized by science and medicine as simply innate to a person. It is no more a disease or a condition that needs to be changed than is race or eye color. Conversion therapy is not a legitimate, scientific, medically recognized therapy, and no one should represent it as such. It should not be offered at all, and particularly not by anyone who is a licensed health care provider, to children. Any provider who purports to offer such a bogus and harmful service to children should be subject to license suspension or revocation, for the protection of the public," said Rep. Edith H. Ajello.
©WLNE-TV / ABC6 2017