Grand Re-Opening of the International Tennis Hall of Fame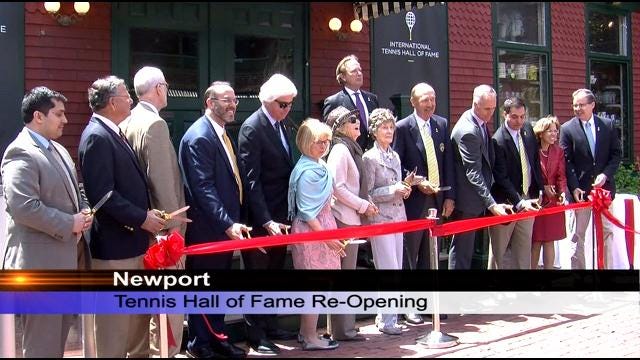 By: Melissa Randall
mrandall@abc6.com
@MRandallABC6
The international Tennis Hall of Fame Museum unveiled its new look today after 3 years of planning. Museum officials are hoping the multi-million dollar transformation will inspire future athletes and boost tourism in Newport.
The collection at the museum is now nearly 2,000 pieces strong. On Wednesday the public got their first look at the newly renovated gallery.
"It's a big accomplishment. We are the keepers of the game world wide. And this is really a place for us now to showcase the history and really encourage people to play some tennis," said Doug Stark, museum director.
The careers of 243 Hall-Of-Famers are highlighted through new multi–media technology.
The biggest draw is the Roger Federer Experience. A hologram of the Grand Slam Champion talks to visitors telling them why he loves the game. The experience is especially exciting for Hall of Fame CEO Todd Martin who played against Federer in the Davis Cup.
"I think I would have stood a better shot at beating him if we'd of played now, with the hologram. I can handle the hologram, I just couldn't handle him," joked Martin who is a Hall Of Famer himself.
After hanging out with the tennis icon visitors are encouraged to circle back and see other exhibits. The renovations took about three years and cost $3 million. The Senate President calls the tourist attraction a win–win for the City-By-The-Sea.
"… because they [visitors] don't just come to the museum. They dine in our restaurants. They patronize our local shops, and that boosts our local economy," explained Teresa Paiva Weed.
The museum is fittingly housed inside the Newport Casino— a national historical landmark.
It is open daily 10 am to 5 pm.
© WLNE-TV 2015