Arts Grant Would Not Change Grim Financial Picture in Woonsocket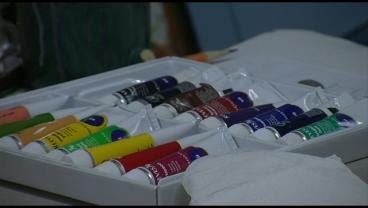 City leaders in Woonsocket are taking every opportunity they can to avoid bankruptcy. The latest effort, applying for a national arts grant. But if they land the grant, the money could not be spent on the real problem, closing the deficit.
"There's a unique potential in Woonsocket for arts led economic development," Rebekah Greenwald of RiverzEdge Arts said.
Potential is not a word most people would use to describe the city of Woonsocket because the $10 million deficit paints a pretty grim picture. However, Rebekah Greenwald says the key to a better economy could lie in getting $100,000 in federal arts money.
"We see the power of art everyday and it's ability to transform lives and communities," Greenwald said.
Art will not change the fact that every person who lives in Woonsocket has to pay 13% more in taxes this year, a double digit hike to make up the city's budget shortfall.
Woonsocket Mayor Leo Fontaine says the arts are still worth discussing in tough economic times.
"We've got to not only think short term, but long term," Fontaine said. "And when you look at our downtown area, we've tried many things and none of it has worked, but when you look at the arts, it is starting to take hold."
Fontaine says the grant would translate into new businesses and new revenue. National Endowment of the Arts Chairman Rocco Landsman says the federal government trusts the city despite their record of money problems.
"I know it will go to arts organizations and activities," Landesman said. "And we feel comfortable with that engagement."
Landesman says the money can only go to the arts and not toward closing the budget gap.
Greenwald hopes the two can eventually go hand in hand in what would be a real creative solution.
"Arts are their pathway to a brighter and better economic and educational future in a city where it is most needed," Greenwald said.
They will not know if they land the grant until sometime in the next few months after a federal panel makes a decision.