Great Grandmother gets HS diploma at age 100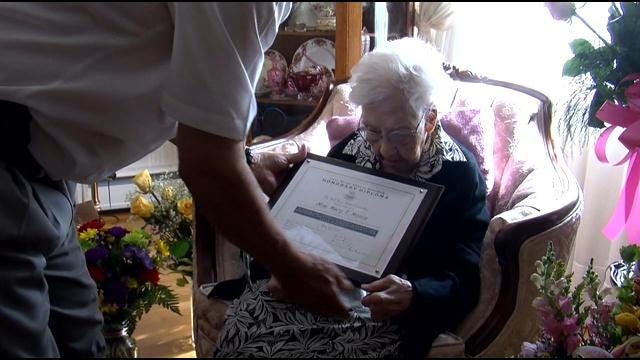 By: Melissa Randall
mrandall@abc6.com
Sitting in her living room Mary Moniz is taking it all in. Yesterday, on her 100th birthday, she finally accomplished something she set out to do in the early 1930's. The East Providence woman got her high school diploma.
"I feel honored," she said.
Her children knew how important filling that void was, so they contacted the Education Commissioner in Massachusetts where Moniz had been a student to see what they could do.
"They were able to get the honorary diploma for her and the Superintendent of schools came on Saturday to deliver it to her which was absolutely awesome," said Mary Porto, Moniz's daughter.
Moniz, the daughter of Portuguese immigrants, left Fall River's BMC Durfee High after just two years. It was the Great Depression, and her father moved them back to the Azores. It would be nearly 20 years before she would return to the U.S. to raise a family of her own.
"She regrets not getting her diploma because she wanted to further her education. She was so much into– she was an avid reader, and she wanted to be a history teacher," said Joseph Moniz, her son.
With her honorary degree in hand, Moniz wants to remind young people to value their education, and never take it for granted.
"If I could make it all the other children can do it- if they try," she said.
© WLNE-TV 2014
Follow me on Twitter @MelissaARandall