Green Beret's pay tribute to Special Forces vets, fallen Guardsman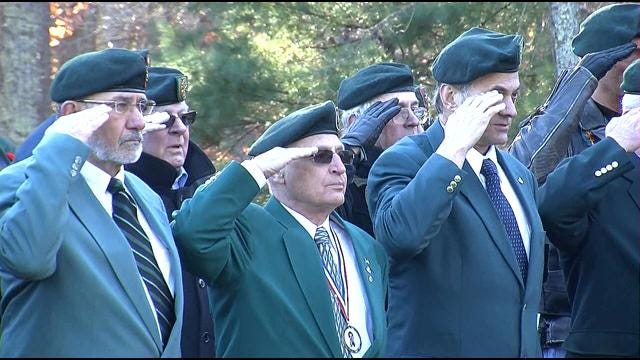 By: Melissa Randall
Twitter: @MelissaARandall
More than a dozen Green Berets stood at attention Monday. They gathered in Exeter to pay tribute to those who are currently serving in the Special Forces, and those who have served in the past.
"It's just a place where we can reflect," said Jay Tucker, a retired Master Sergeant with the U.S. Army Special Forces.
The Green Berets were prominent during Vietnam, but their important work continues today. Their purpose is to train, advise, and equip indigenous forces in warfare.
On Veteran's day the servicemen and their families return to the Special Forces monument on the grounds of Rhode Island's veteran's cemetery and lay a wreath.
"I think it's amazing. I just believe very strongly in what these men do for us. What they've done. What they're continuing to do," said Sarah Doyal, who was there with her parents to support her grandfather.
During the ceremony the names of soldiers who have passed are read aloud.
"It goes longer each year," said Tom Rowan, President of Chapter 48 of the Special Forces Association. "We dread the thought of having it get any longer."
Some years there are no new names added to the list. This year there were two. Sgt. Jim Kiernan was lost to natural causes. Sgt. Timothy McGill, a member of the Rhode Island National Guard, was killed in action in September while serving in Afghanistan.
"It was one of those instances of what we call blue on blue. One of the Afghans shot him, and he lost his life," said Rowan.
McGill was just 30 years old. He received dozens of medals including the Bronze Star and Purple Heart.
© WLNE-TV 2013