Ground Plane Collision at TF Green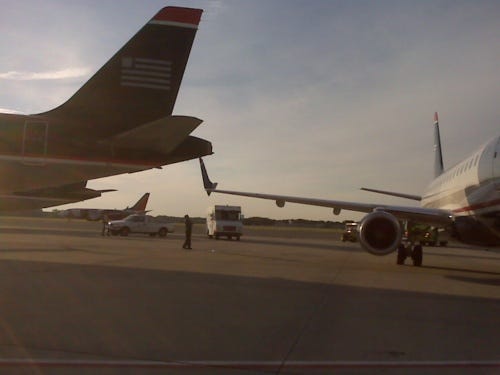 2 US Airways Planes at TF Green Airport were in the process of a push back when they brushed against each other around 6 Tuesday morning.
The plane engines weren't running, and they were being pushed with help from ground crews. Passengers in both planes were de-planed and will be re-booked on other flights.
There were no injuries reported. The incident is being investigated.
ABC6 Anchor Andrew Gobeil has more…
WARWICK, R.I. (AP) – Officials say a plane carrying 36 people struck an empty one on the ground at T.F. Green Airport in Rhode Island, but no one was hurt.
Airport spokeswoman Patti Goldstein says US Airways Express Flight 3315 to Philadelphia was being pushed away from a gate Tuesday morning when it hit an empty, stationary US Airways plane next to it, Flight 815 to Charlotte, N.C.
She says neither plane was powered and the airline employee pushing the US Airways Express flight back let it get too close.
A US Airways spokesman says the wing of the Philadelphia-bound plane and the tail of the other plane were damaged.
Goldstein calls the damage minor.
Both flights were canceled and passengers put on other flights.

(Copyright 2010 by The Associated Press. All Rights Reserved.)